SPOILER ALERT!
​
Carol and David's wedding day arrives but Bianca is still unsure about her Dad's intentions. David's quest for 'something blue' takes him away from Walford… Carol asks a reluctant Liam if he will walk her into the register office. Will David return in time for the wedding?

Stan returns from his court appearance with a fine and a curfew and makes Dean an offer he can't refuse, money to set up his own business in Albert Square. Dean's not overly keen, but when he realises Stan's calling in his debt from Mick, Dean reconsiders… Meanwhile, Mick and Shirley discuss recent revelations, and agree to move on.

Sharon worries about Ian when there's no sign of life at the Beales' and after some perseverance finds him isolated in the house. Sharon offers him some words of advice but it's clear Ian's still struggling.
​
Lola discovers that Billy has been stealing stock from Beale's Plaice and lays in to him, telling him to get rid of it. Feeling guilty, Billy passes the food off to the Butchers as a wedding gift. Billy's day brightens up when he sees William and Janet.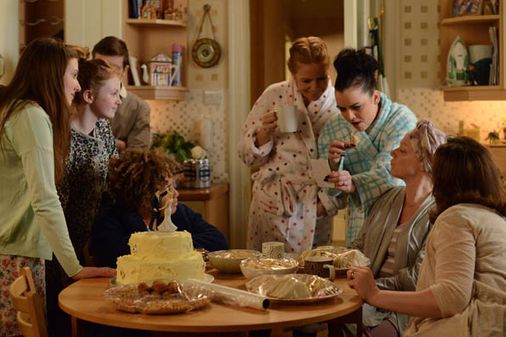 © BBC Pictures
Chaos descends on the Butcher household