SPOILER ALERT!
Sharon walks in to find Ben attempting to suffocate Phil and quickly stops him. As Sharon comforts Ben, a fuming Phil tells them to leave but Sharon stands her ground and makes a threat forcing Phil to go. Meanwhile, an uncomfortable Abi is consoled in The Vic and is warned by Shirley that Ben isn't one to stick around. Sharon soon arrives to say Ben has gone missing but Abi finds her mind elsewhere when she comes to blows with Babe who threatens to reveal she was never pregnant.
Outside, Phil's behaviour spirals out of control and he begins to destroy The Arches. All hell breaks loose when Phil gets into a digger and starts to destroy the car lot. As the horrified residents look on, they quickly realise someone is inside – has Phil killed someone?
Shirley realises where Ben might be and finds him in McKlunky's. With Heather on her mind, Shirley gives Ben a reality check about what he's done in the past and tells him Phil is already being punished. At the Minute Mart,Ben comforts a devastated Phil.
Elsewhere, Tamwar attempts to reunite Nancy with her family. Worried for her daughter, Linda begs Mick to make amends with Nancy but when Mick insists Ollie has changed, an argument ensues and Mick tells Linda he can never forgive Nancy.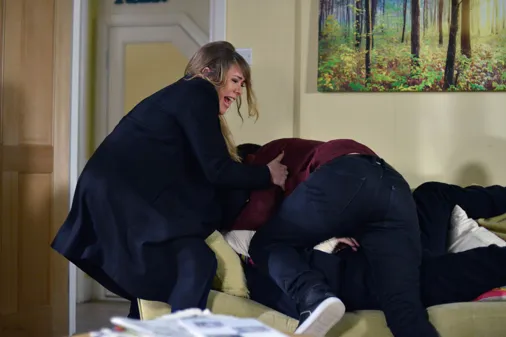 © BBC Pictures