Aaron decides Liv is going to stay with him, but she's conflicted when she gets a text from Gordon. They meet and Gordon manipulates information from her and Liv agrees to find him further proof. Later, Robert's unnerved by Liv's questions. As Robert tells his worries to Aaron, Liv secretly listens in, recording the conversation. Will Robert let slip about Ryan?
Moira's still incredulous Holly never told her at the time she had relapsed. Holly explains how she got clean again and Moira says she's proud of her. Holly says that she won't let Moira down, but can she stay true to her word?
Kerry can't wait to see her April Fool's Day prank on Dan play out, but she's horrified when she sees Cain punching Dan and Dan quits his job. Has her prank backfired?
Post coital Andy and Chrissie panic when they hear Bernice coming. Andy hides under a desk, but everyone's mortified when Bernice finds him in just his underwear. Is the cat is out of the bag?
​Belle tells Priya she's met someoneand mentions he's older than her. She plays down the actual age difference and Priya tells her to go on a date and have fun.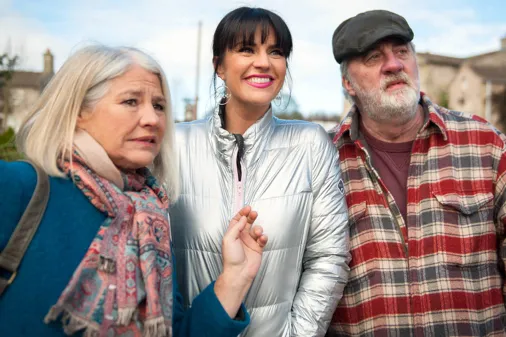 © ITV Pictures