​SPOILER ALERT!
Lawrence covers his shock as Bernice shows Ronnie in and pales to learnRonnie did some work for Chrissie. He reflects on when she was born and he's shocked when Lawrence begins to write a cheque as payment to keep out of their lives. Ronnie tears the cheque up. Bernice insists she knows Ronnie is Chrissie's real father. Lawrence asks Chrissie about Ronnie and she's adamant she wants to know who her real father is. Will Lawrence allow her?
Robert's thoughtful about the letter when Aaron states he wants nothing more to do with Gordon and makes up his mind to set fire to it. Aaron tells Liv he'll go to the trial with her but she wants to spare him the hurt so agrees neither of them will go. However, there's a sense she's not being honest.
Laurel feels for Ashley as he says he can't pretend his faith has returned and Harriet wonders if she can help. Ross tells Finn to let Pete go to Scotland as the two of them can run the taxi business but Finn doesn't want to give up on Pete. Belle sees Bailey in a new light they enjoy each other's company and Belle's clearly happy.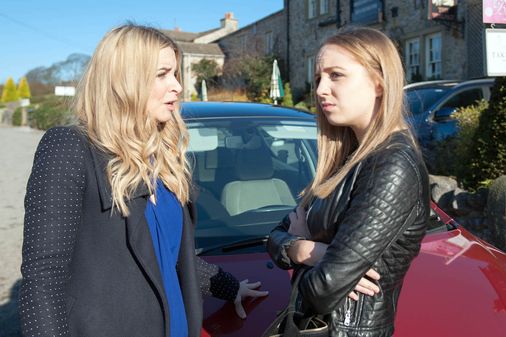 © ITV Pictures