​SPOILER ALERT!
The Dingles are determined to keep Doctor Bailey and Belle apart but when they see Belle sneaking to run away with him they are furious. Charity and Zak attack Bailey but Belle shouts at them to stop, announcing she's pregnant with his child and going to Romania to be with him. The Dingles are shocked Belle planned to leave without telling them but Lisa warns Zak and Cain they will have to be clever to thwart this, hatching a plan.Meanwhile, Charity quizzes Belle over her pregnancy and accuses her of faking it. WillCharity believe Belle and how will Lisa sort out the situation? Soon Belle and Bailey are called to attend the family meeting but what is the plan?
Rakesh receives the expensive necklace he has bought Priya for her birthday whilst Rishi fills him on the plans for the surprise party. They stop talking abruptly when Priya arrives, making her suspicious. She later questions Rishi and he pretends they were talking about the dry rot. Her worst fears are soon confirmed when he suggests the fire was a Godsend. Priya is fuelled with suspicion and starts asking questions..
Rhona and Pierce inform Marlon they've told Leo about their relationship but Marlon encourages Rhona to tell Paddy. Later Pierce's interest is piqued when he overhears Priya questioning David regarding the fire. Ashley and Sandy create asystem to help Ashley in the kitchen. But when Ashley accidentally calls Laurel 'Harriet' he asks for Sandy's help with another idea. Laurel returns later to see what Ashley has done..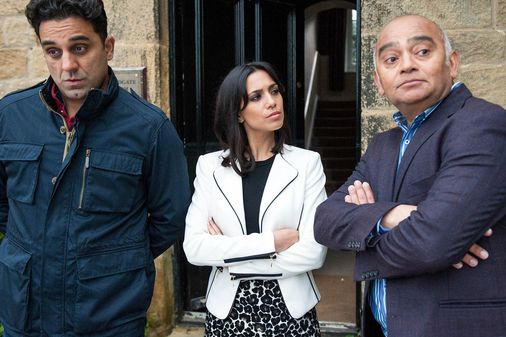 ​​​