SPOILER ALERT!
Episode 1
Laurel pulls up outside Ross' flat. She believes he's her attacker. She grasps the scissors and tenses as he comes towards her. Their eyes meet, but he walks on oblivious, as Laurel notices her hand is bleeding.

Meanwhile, Marlon's confused to learn Laurel hasn't been at work all week and goes to find Cain. The pair go together to finds Laurel, who manages to slip into Ross' flat. She pulls out the scissors and tells him she wants to hurt him.

Elsewhere, Gemma calls round to see Belle with some festival tickets and admits sleeping with Sean because she was jealous. Belle's not ready to forgive her and bitterly suggests she'll get over her abortion.. Gemma leaves upset and Belle knows she went too far. She misses her friend.

Also, Pollard and Val are rocked to read of the death of Kyle's adoptive parents.
Episode 2
Ross realises Laurel means business and when he recognises who she is he apologises - but it's not enough. Meanwhile, Cain and Marlon arrive at Ross' work and find out his address.

But at Ross', Laurel's confidence is slipping and Ross takes advantage, trying to take control and backing her against the door. He knocks a lamp over and she drops the scissors in shock. Ross looks menacingly at her.

Elsewhere, Rhona tries to convince Vanessa to stay - she's worried she'll lose her drug supply. Paddy's nervous as he knows his marriage depends on the trip and he's heartbroken as Rhona tells him it won't fix anything. He says they don't have a marriage any more and Vanessa overhears, knowing Rhona has chosen her.

Also, Val tells Amy about Kyle's parents dying.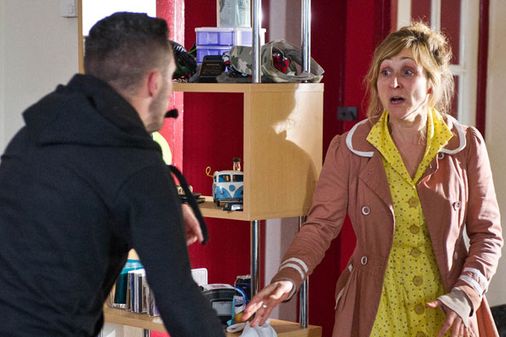 © ITV
Laurel approaches her attacker