​SPOILER ALERT!
Zak secretly fights his jealousy over Rishi's friendship with Joanie. But later, the green-eyed monster gets too much for Zak who punches Rishi hard whilst a mortified Belle and Lisa witness it. Joanie and Zak's relationship changes footing as Joanie explains she'd marry him, giving him a blunt ultimatum. Lisa is soon winded when Zak visits her to tell her his plan. Later, in the pub, Lisa's heartbroken by what she sees.
Laurel thinks Gabby should be grounded for what has done but Ashley disagrees, although is troubled by her attitude. Meanwhile, David hides his real concern over his test, feeling guilty about keeping his dad in the dark. Gabby puts her foot in it upsetting and concerning Pollard.
Lisa can't help sharing her upset with Belle. Belle throws caution to the wind as she heads to the doctors' surgery and kisses Dr Bailey.

Megan asks Sam to be Eliza's godfather, which gets Jai's back up. Chrissie has a picture of Ronnie and ruminates to Andy how he could be her father. But Andy warns her to slow down?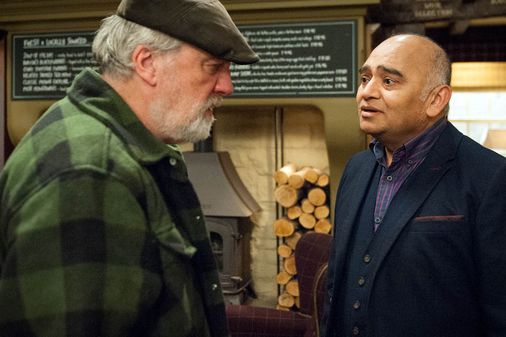 © ITV Pictures