SPOILER ALERT!
As Val gives Amy the number for social services, Victoria worries about Amy's determination to get Kyle back - but Andy offers his support. Val smugly fills Kerry in on the situation - she's hurt Amy's kept her in the dark.

Later, Joanie overhears Kerry telling Dan that Amy is going to fight for Kyle. Kerry's mortified and tries to persuade Joanie she's got it wrong. But Joanie's not convinced and decides to confront Amy.

Elsewhere, Paddy and Chas get closer over a bottle of wine. Marlon is suspicious as he watches them take comfort in each other and his worries ring true when Paddy leans in for a kiss…

Also, Chas gives the Dingles an ultimatum - it's her or Debbie.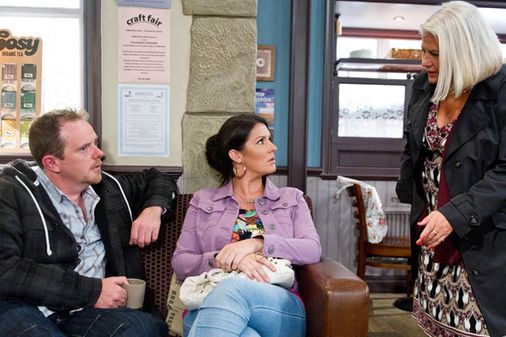 © ITV
Joanie overhears Kerry's conversation