SPOILER ALERT!
Episode 1
Away from the village, Cameron and another prisoner are escorted in a van. Suddenly, they come across a road ambush and the prison guards are terrified as hooded men threaten to harm their loved ones. The guards comply with their demands and unlock the van. Cameron is handed an overnight bag and passport - he's free.

Elsewhere, Vanessa and Marlon make it clear they're disgusted that Chas and Paddy spent the night together. Chas pleads with Vanessa not to tell Vanessa and Marlon says he'll never forgive Paddy if he doesn't fight for his marriage.

Later, Chas is shocked when Paddy reveals he's not sure what happened between them was a mistake - living with her was one of the happiest times of his life. He thinks they could be good together again.

Also, Ali feels guilty when she tells Sean she doesn't have the money for his school trip because they're putting it towards their artificial insemination treatment.
Episode 2
Debbie is confused to receive silent phone calls but they make sense when DC Flanagan arrives at the Woolpack to tell her and Chas that Cameron has escaped. Debbie's terrified he'll head back for revenge. But then we see Cameron at the ferry terminal…

Elsewhere, Chas lets Paddy down gently and he starts to wonder if he made a big mistake. He's gutted when Vanessa reveals she's told Rhona everything. He and Marlon are furious and worry this could set Rhona back. When Vanessa reminds him his marriage is over, Paddy realises he still loves Rhona. Vanessa tells him it's not too late to fix things, as she hasn't told the whole truth.

Also, Ruby's resentful as Ali gives Sean the money for his trip. But Ali says she can't just drop the kids for their new baby. We then see Ruby secretly ringing someone and telling them she needs to see them soon.

Also, Andy tells Amy he'll support her - but he doesn't agree with what she's doing.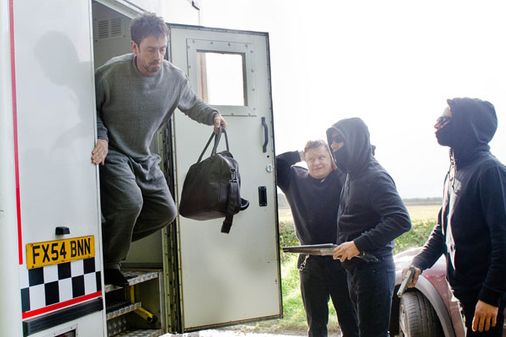 © ITV
Cameron makes a run for it