SPOILER ALERT!
Moira tells Ross to take Cain's place in the garage as she is so fed up of Ross and Adam arguing. Ross sets his sights on Debbie, but will she let herself be wooed by him? In the pub, Ross and Adam place a bet that Adam can't pull Katie, so he is delighted when he and Katie leave together and begin to get intimate. However, Ross turns up and it dawns on Katie that she is the object of a bet.

Robbie tries to help Megan with Declan, but gets frustrated when Megan tries to downplay it and Declan tells him it's none of his business. Rumours that Declan is hitting Megan quickly spreads, and Zak decides to see Megan to check she's okay. Nicola stands up to Declan whilst trying to make Megan see sense, telling her to get out before it's too late. Zak offers Megan to stay with him as he is worried Declan is mentally unstable, leaving her worrying about what to do.

Elsewhere, Kerry and Dan try to outdo Val's Christmas lights, and the whole thing soon gets largely out of hand as they have a 'light war' with each other. Moira also gladly clears the air with Diane.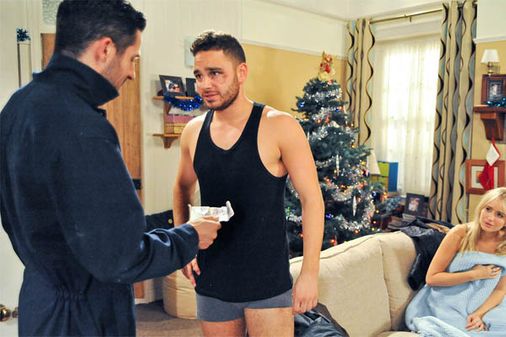 © ITV Pictures
It dawns on Katie what Ross and Adam are up to