​SPOILER ALERT!
Bernice tries to remain cheerful but Nicola soon hits the truth that Lawrence has been unfaithful. Bernice doesn't elaborate on who with or how long ago but a sad Bernice heads to the pub to drown her sorrows. When she is given the keys to the digger to return to Lawrence. Bernice sets off determined.Fuelled with anger and booze she staggers out of the pub and climbs into Lawrence's digger ready to do her worst..
Moira wants Cain to be more supportive of Holly's new job, but Cain is sarcastic about her working at festivals and parties. Later,Cain asks Moira to watch Kyle but refuses to let Holly do it. But soon Moira has to leave Kyle with Holly, how will Cain react?
Lachlan warns Belle that Bailey isn't going to leave his wife and she's rattled. Aaron feels positive Chas is taking steps to get better. It's Moses' party but Finn is annoyed toCharity has double-booked Bob's party for the Queen. Kerry gets the wrong idea over the theme.​​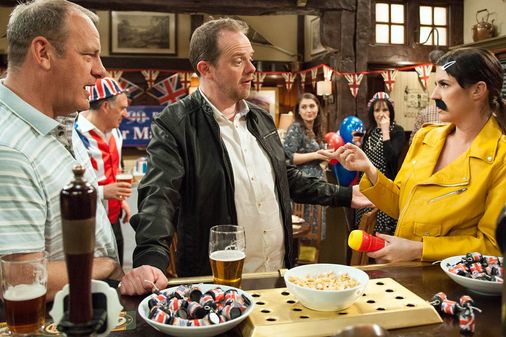 © ITV Pictures