SPOILER ALERT!
Megan decides to take up Gil's job offer, and Declan's world is turned upside down when she tells Declan that she's moving out. He's desperate for Megan to stay, but she is adamant in her decision. She asks Robbie to stay living with Declan out of concern that he is about to have a meltdown. Could her fears be right?

Rachel worries that Charity will get revenge in one way or another, and Jai panics when Rachel doesn't show up to collect Archie. Charity tries to keep it together when she sees Rachel, Archie and Jai together, and offers to throw Archie a birthday party the next day begrudgingly. She later admits to Debbie that she doesn't know how much more she can take.

Priya is annoyed when Georgia sets her up with a personal trainer, but when David is clearly a bit put out she flirts away with Rhys as they arrange a date.

Elsewhere, Ross annoys Adam about Katie, and Katie wonders if she got Adam wrong. Kerry and Val's light war continues, leaving David and Dan struggling to put up Kerry's massive Christmas tree.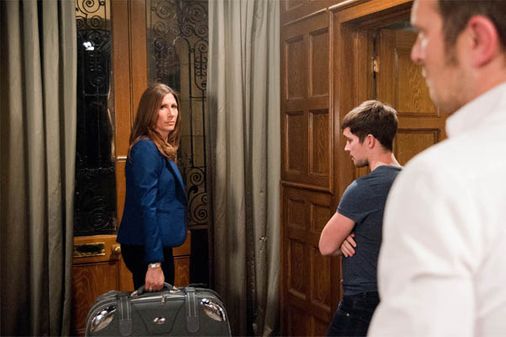 © ITV Pictures
Megan tells Declan she's leaving