SPOILER ALERT!
Ross really wants to impress Debbie but is annoyed to note that Debbie and Pete have obvious sexual tension. Ross confronts Pete and is surprised that Debbie likes Pete. He finds himself taking his anger out at the garage on Ashley's car, leaving Debbie furious. She demands he pay for the damage he caused. It's not long before Ross cooks up a plan to ensure he's not left out of pocket, and it involves blackmailing his big brother.

Belle goes missing when the news comes out about Gemma's immediate funeral and sends Lisa into a panic, who's worried she's done something stupid. Cain is suspiciousand thinks there's more to the story than Lisa is revealing.
Harriet is worried when she receives a call from Dom asking her to meet him. He apologises and finds herself offering to arrange Gemma's funeral for the next day. Will she be able to pull it off so quickly?

Eric and Val admit defeat on their relationship, and they meet up discuss their break up. Diane arrives and tries to tell the pair they're making a huge mistake, but they're sure they're doing the right thing. Will she be able to persuade them otherwise?

Elsewhere, Marlon cares for Gabby and she helps him look after the pigs, prompting her to become a vegetarian.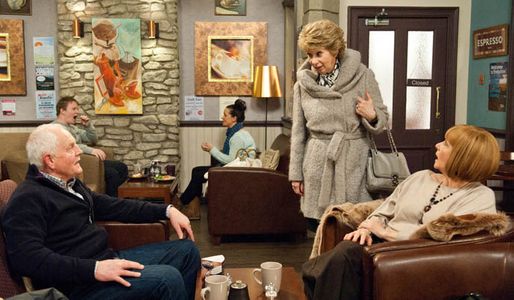 © ITV Pictures