SPOILER ALERT!
It's Gemma's funeral and Belle reads the lyrics to Gemma's favourite song. Overcome with guilt, she leaves the church. A worried Lisa goes after her, but she can't find her anywhere. Chas finds letters addressed to Lisa, Dom and Sean and is immediately alarmed. Lisa reads the letters and hears Belle's intentions to hand herself, and so Lisa is forced to tell Chas and Cain was Belle did. Will they be able to stop Belle before she gets to the police?

Pete is keen to come clean about his relationship with Debbie, but she still isn't sure. Cain is surprised to see Debbie at Butler's, but she covers and pretends she's there to see him. Debbie explains about Ashley's car and her orders that Ross pays her back, and Pete realises her brother's previous threats were serious. Pete succumbs to his brother's demands and pay up, or will Ross do dodgy dealings to get the money?

Ruby goes to visit William. He's had a fall and calls a doctor to check on him. Whilst waiting for the doctor, she had to listen to William's racist slurs and she walks out, but quickly returns when she stumbles on a tin of cash, considering her money problem. However, she thinks better of it. Seb arrives home and Ruby opens up to him as they share a drink.

Concerned about Jacob at the funeral, Leyla offers to take care of him. Alicia arrives to pick him up but finds him fast asleep at Leyla's place and agrees he can stay the night. Jacob's pleased they are being nice to each other, but Leyla reminds him Alicia must not know he lent her money, especially after showing off her new designer watch.

​Elsewhere, Marlon makes the situation with Gabby worse who declares she wants to be a vegan instead of a vegetarian.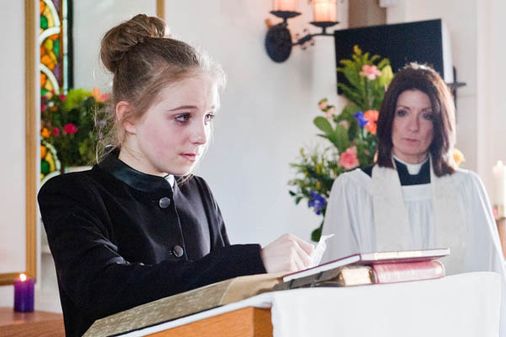 © ITV Pictures
Belle reads out Gemma's favourite song