​SPOILER ALERT!
Bernice's memory comes flooding back when she sees the digger keys in the kitchen at Home Farm. Rakesh blames Ronnie but Ronnie suspicious and confronts Bernice. When it seems Bernice is going to crack, Andy takes the blame, saying it was an accident but Ronnie isn't convinced. Bernice tells Andy about Lawrence being gay and how he had a relationship with Ronnie.She leans in for a kiss but will Andy return it? And how will Bernice feel when Chrissie arrives?
Holly gets her wages from Victoria and decides to go into town but Moira fears she'll buy drugs. Moira's relieved when Holly returns and after searching her finds nothing more than gig tickets for her and Cain. Holly appears wounded by the accusation, but when she steps out of the house she pulls out a wrap of heroin….
​​Arthur tells Brenda about the haunted pirate ship in the café but that evening his left scared when all the men shout 'ah harr', fearing there's a ghost. Tracy urges Belle throw a symbol of Bailey on the bonfire as a cleanse but is she still secretly in love with Bailey?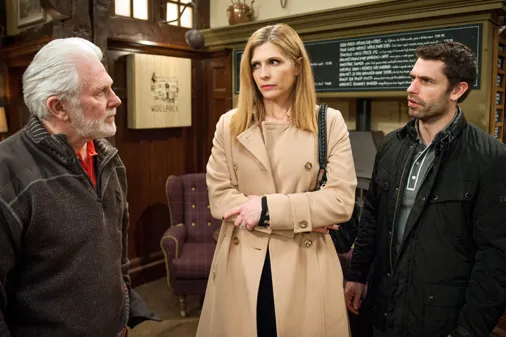 © ITV Pictures