SPOILER ALERT!
​
After passing out in pain, Andy admits to Katie his arm is getting worse. Wanting to help, she takes him to the hospital where the doctor tells him his arm is now infected. Andy realises by having missed some of his appointments, he could have made things worse. Andy and Katie call in at the farm and Andy informs Moira he's decided to accept Cain's settlement offer. Once home, Andy thanks Katie for her support but an innocent hug soon becomes a kiss.

Priya is pleased Rakesh would like to meet her and nervously awaits his arrival. Georgia invites Rakesh inside but is judgmental over everything he says. Priya apologises for her mother but Rakesh tells her he finds it refreshing she speaks her mind. Their introduction seems a success until a livid Jai turns up. Priya learns he knows Rakesh of old and they had a massive business disagreement years ago but will a defiant Priya go against her brother's wishes and see Rakesh again?

When Ross refuses to talk to Donna she pretends to arrest him for indecent exposure and bundles him into the police car. Checking nobody is around, she handcuffs Ross to the steering wheel and confesses she likes him and needs him in her life. Ross is surprised to hear her true feelings but can he stick to her rules that nobody is to know about their relationship?

Laurel tries to ignore her doubts about moving the wedding forward.

Moira contemplates the distance between her and Cain. Chas tells James that Finn could be having an identity crisis after Finn opens up to her. Pollard fires Finn from the B&B. Adam tells Ross he knows he stole from the factory and tells him he wants in on his next job.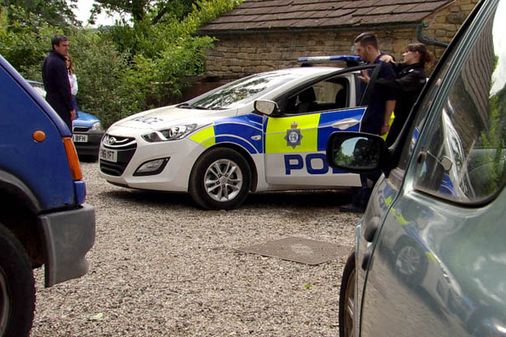 © ITV Pictures
Andy and Katie grow closer