SPOILER ALERT!
Episode One
Megan is pleased when Declan tells her Charity is going to have an abortion. However, Declan is confident he can change Charity's mind. He tries to change her mind and clumsily ends up proposing. Will he tempt her to reconsider? Elsewhere, Megan tells Jai about the pregnancy, how will he react after Charity always refused to have a child with him?

Pollard is hurt by Val's attempt to make him jealous. Val have a vindictive pleasure in winning their arguments, much to Ian's discomfort. Behind closed door it seems like Val doesn't want to be with Ian. Is their relationship just a façade? Later, Val confides in Victoria that she doesn't enjoy being with Ian and will end it with him.

Elsewhere, Dom speculates about his mysterious benefactor, and Edna seems offended by some of his comments. Dom thinks it's Betty. Finn isn't happy when Declan gives him a naff bonus. Chas asks James to help her plan Cain and Moira's wedding but he doesn't want anything to do with it. Dom asks Debbie for the rest of his money but she says she doesn't have it yet.
Episode Two
Charity decides to marry Declan, though she is obviously unsure. She asks Declan to keep the baby news a secret but he admits Megan already knows. Debbie isn't happy with Charity's change of heart to keep the baby. Debbie warns Declan that her mum will have another motive for agreeing to his wishes, and he should test Charity to check her intentions.

Pollard vents his annoyance by selling off some of Val's belongings. Meanwhile, Val tells Victoria she is finished with Ian, and she wants to be with Pollard, but when she sees him selling her things, could it really be the end of Val and Pollard?

Elsewhere, Harriet suspects Edna may be Dom's benefactor. Chas, James, Adam and Katie plan to throw a surprise wedding for Moira and Cain, and tell Zak what they are up to. A drunken Finn gets a phone call about a job.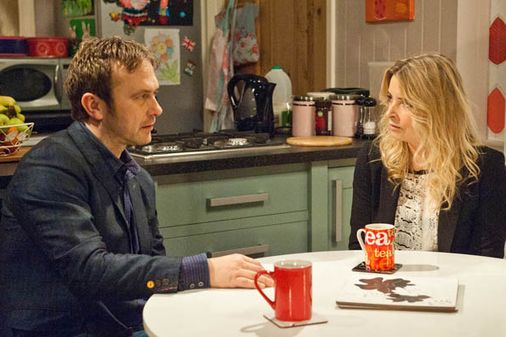 © ITV Pictures
Declan proposes to Charity