​SPOILER ALERT!
Rakesh is bitter Pierce has taken his job. Later, Rhona picks fault with the flat Pierce has found and he jokes it is because she doesn't want him to leave. In a charged moment, they almost kiss. Vanessa tells Rhona what Pierce has done, suspecting it's a vendetta. Rhona confronts Pierce, who denies he's out for revenge but his agenda is clear when he listens into a voice mail.
Jacob has got the day off school to go with David for his chemo, determined to help David through it. In the hospital David and Jacob see Dylan,who comforts David by reminding him there's light at the end of the tunnel. Later, David thanks Dylan for his help. Dylan downplays his illness as they joke together.
Ashley heads out to talk to the village hall committee regarding renaming the village hall. Sandy is lonely as he hides his sadness at losing yet another friend. Priya suggests setting up a bank account for Johnny in order to send money to Kirin without suspicion will Rakesh agree?​​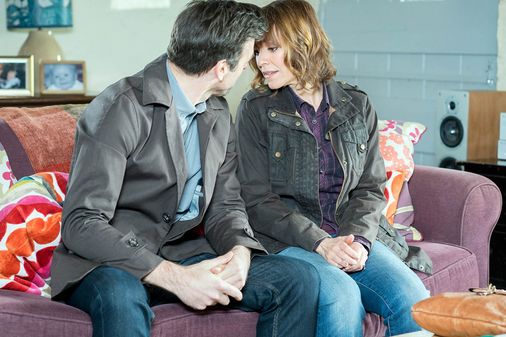 © ITV Pictures