SPOILER ALERT!
Edna and Sandy come to Rhona's aid when she feels faint in the café. Marlon is suspicious that she's back on the pills and tells Rhona that Leo isn't going anywhere until he's sure she's clean. Chas comforts Paddy as he worries about Rhona, unaware that Rhona's watching. Rhona then tells Paddy they've killed their relationship as there is no trust left.

Pollard is upset when Val doesn't try to make amends. Diane encourages Val to make things right, but is mortified when Val snaps that she doesn't want to end up alone like her. Victoria throws a bucket of water over a shocked Val to calm her down.

​Elsewhere Diane worries about Woolpack's online reviews, Marlon tries to change Laurel's mind about lying in court and Victoria hands in her notice as she decides to go back to work at the Woolpack.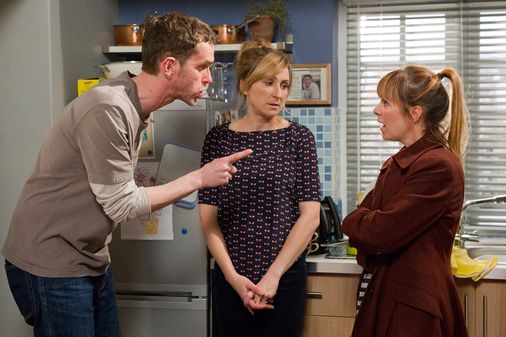 © ITV Pictures
Marlon tells Rhona that Leo isn't going anywhere