SPOILER ALERT!
Paddy realises Vanessa is also suspicious of Rhona's drug usage when he catches her checking the drugs cabinet. They try to get their relationship on track as Rhona promises to Paddy she is clean, while he swears there's nothing going on with Chas. But Rhona panics when the doctor prescribes her antibiotics for a bladder infection, as she is unable to face taking them. Marlon angrily says he'd rather fight for custody of Leo than allow him to go back to Rhona if she is still on drugs, but Paddy takes Leo to Rhona anyway.

Jai's worried when he hears Samson has a virus, suggesting they look after Archie until he's better. Rishi is angry with Jai for getting her in trouble with Georgia and Charity over Archie coming to stay. Sam tries to hide his confusion when he hears that Archie is staying with Jai. Charity arrives and is suspicious about the uncomfortable atmosphere. Will she manage to get the truth out of Sam?

​Elsewhere, Robbie tells Declan he knows a guy who might want to buy all of the properties as a whole, and Bernice is shocked when she finds out about her father's new career.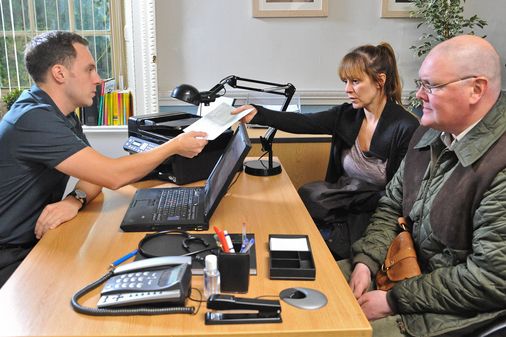 © ITV Pictures
Rhona is prescribed antibiotics