SPOILER ALERT!
​
Still hurt Dan called her a bad mum, Kerry allows Daz to console her as he suggests she postpones the wedding. Later, as Kerry (dressed in Dan's clothes) and Dan (dressed in Kerry's torn wedding dress) prepare for their hen and stag parties, Dan apologises and they agree the wedding is still on but they are unaware an unhappy Daz is listening in. During the stag party Daz slips out and heads back to Dale Head where a drunk Kerry is looking for a CD. He compliments Kerry and tries to kiss her, unaware a fuming Dan has seen. How will Kerry talk her way out of this one?

Val arrives home as Pollard fills her in on Finn's situation. She gives Finn time off believing it's what he needs but Finn drowns his sorrows with a bottle of vodka. Later, a drunken Finn apologises to Eric as he's serving customers telling him and Victoria he needs to know why his mum left but it all becomes too much for Finn and he throws up. Victoria's worried but can she help him find his mum?

Dan is torn when Chas tells him the army could be the making of Sean. He agrees to sign the consent but wants Ali in the dark until after the wedding.

Laurel feels like she's losing control when Marlon tells her they should let Leyla plan the wedding.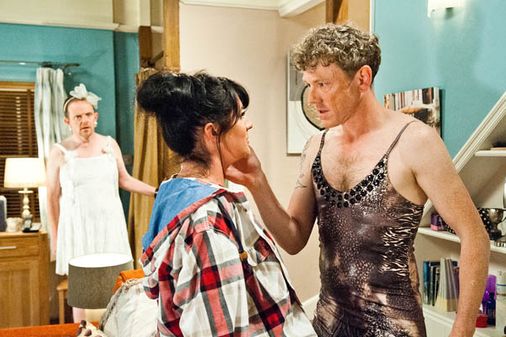 © ITV Pictures
Kerry allows Daz to console her