SPOILER ALERT!
Episode One
The Sharma family are relieved to hear that Rishi has only had a minor heart attack. Charity begins to push why Sam and Jai have fallen out, and Rachel panics when Charity suggests it was Jai who got her pregnant. Will the truth finally come out once and for all?

Alicia mentions to David that she thinks Priya is still pregnant. Priya admits she still hasn't decided if she wants the baby, leading David to confess that he does want the baby and he will be there for her.

Veronica offers Rodney three grand to sleep with her, whilst Ashley is offered an interview for the vicar position. Sandy looks forward to the speed-dating event at the Woolpack, and Declan introduces Gil to Megan as Gil views the houses.
Episode Two
Charity loses it with Jai then slaps Rachel across the face, demanding to know the truth. Jai attempts to defend himself, but Charity is beside herself with fury. Will she finally get the truth out of the two of them?

Declan and Gil strike up a deal, but immediately face new difficulties: Dale View is in Katie's name for tax reasons. Declan realises he is in trouble.

At a speed-dating event, Sandy wants Ashley to get into the spirit as he enjoys himself, but Ashley does not and is rude when a friendly Harriet tries to join him for a drink.

​Elsewhere, Rodney pleads his case to Georgia.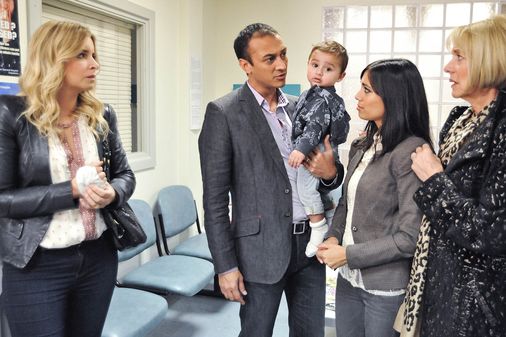 © ITV Pictures
The Sharma family come together for Rishi