SPOILER ALERT!
Episode One
Moira gets the house ready for the estate agent, as Cain heads out reluctantly to do the dodgy job. He's worried that if he doesn't do this, Moira will lose everything.

Moira calls him and Cain finds someone else to the job so he can rush back to her, but their moment together is interrupted by a disturbance…

Rhona is numb with shock after Paddy finally drops the bombshell.
​
Elsewhere Betty goes to check on Alan, whilst Betty and Victoria prepare for a party to celebrate Alan's homecoming.
Episode Two
Cain and Moira rally around his contact who has stumbled into their house and is wounded. He threatens to tell everyone his injury is Cain's fault, while Moira threatens to call the police if someone doesn't tell her what's going on.

The intruder doesn't want to go to hospital, so Vanessa the vet is asked to come over and extract the bullet from his shoulder. What will Cain do now?

Victoria is stressing about the celebratory meal, as Betty goes upstairs and makes a disturbing discovery about Alan. They decide to put on a brave face and go ahead with the meal.

Kerry confides in Amy that she isn't happy about Dan's involvement with the Spencers.
​
Paddy is unnerved to see that Rhona is unresponsive to his shocking news.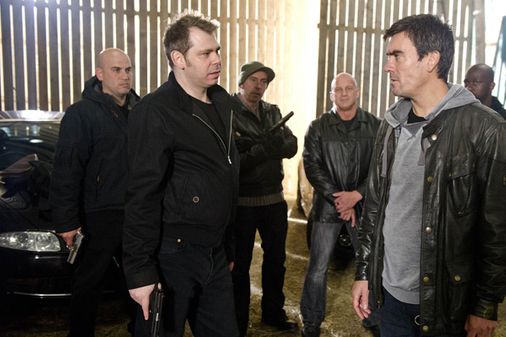 © ITV Pictures
Cain joins Marcus and his gang