​SPOILER ALERT!
Cain tells Moira it was Charity who stole the money but neglects to mention that Holly made a pass at him. However, Holly wrongly assumes Cain has told Moira about the kiss and claims he came on to her. As the duo fight, Holly runs off with Pete and outside the village hall she leaves a message for Moira begging her to call back. Cain deletes the message before listening to the end, unaware of the potential consequences. As Holly waits for Moira to call, she takes a wrap of heroin out of her bag, looking between it and her phone…
Emma confronts Charity for stitching Finn and Pete up but Charity bars her from the pub. Emma's disappointed when the boys decide to stay without her. When Ross baits Pete about Moira, Finn finally snaps and punches him. Emma tends to Finn's hand and Ross is rocked by their hostility when she tells him to sort himself out or leave them alone.
Liv shows Gabby the messages she's received from someone pretending to be Gordon. Gabby urges her to tell someone, but Liv's hoping they'll stop onceGordon's cremated. Liv complains she doesn't have any friends at school, and gets an idea when Gabby mentions getting lots of friends when she moved into Home Farm.
Lawrence offers Sam his job back with a raise if he agrees to keep quiet about the attack on Ronnie. Dan assures Jimmy he's still up for watching Ashley.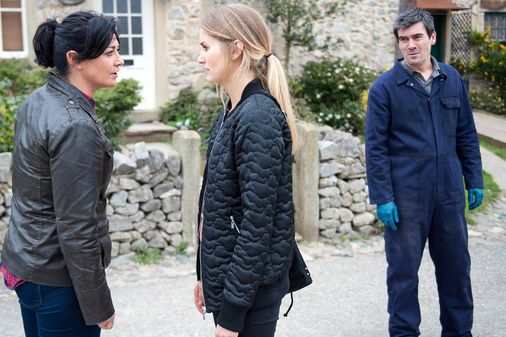 © ITV Pictures