SPOILER ALERT!
Episode One
Chas tells Debbie about how cagey James has been acting about his past relationships. Debbie and Chas ask Cain about it, and are shocked to hear he made a move on Moira a few weeks ago

Dom suggests he, Zak and Belle go and scatter Gemma's ashes together for closure. Belle can't hide her dread and leaves. A increasingly worried Lisa decides she should take Belle away again in case Belle tells Zak, but could it already be too late?

Charity announces her and Jimmy's new company to their clients, infuriating Jai. Megan tells him he needs to let go of the situation and the two distract themselves with a bottle of Declan's whiskey.

Ruby and Ali celebrate William's birthday when Ruby begins to ask a lot of questions about Seb's pregnant girlfriend, Cath.
​
Elsewhere, Jacob overhears David and Pollard talking about Val's HIV, and Pollard worries he won't keep it quiet.
Episode Two
Zak struggles with Belle's revelation and is horrified when she asks for his help. Zak knows from his own experience with Cain that the only thing to do is confess, and the pair go to the police.

Jai tries to kiss Megan, admitting that although it's odd timing, he does actually like her. Meanwhile, Declan and Charity's relationship has also gone up a notch as Declan tells her he loves her.

Ali listens to Ruby talking to Seb about babies, and her heart goes out to her. Ruby's shocked when Ali reveals she has stolen William's tin and savings. Will Ruby accept the money, or return it and give up getting IVF?
​
Elsewhere, James is found out when Chas questions him about Moira. David worries what Jacob knows about Val's HIV.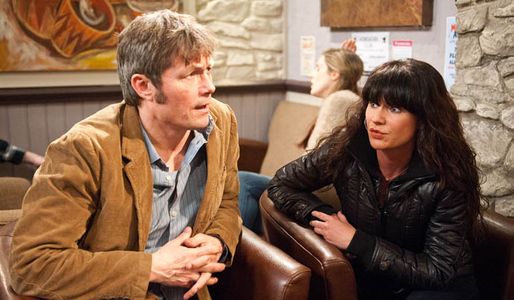 © ITV Pictures