SPOILER ALERT!
Episode One
Noah finds out that Charity is divorcing Jai and decides to go to the factory to find out why. Charity, whilst slightly intoxicated, pursues him and gets upset when she sees the camaraderie between her son and Jai. To prove how angry she is, she gets behind the wheel of a digger…

As David and Alicia discuss whether they should tell Jacob about the pregnancy, Jacob gets his wires crossed and excitedly thinks they are getting married again. In the moment of awkwardness, what will they tell him?

Declan is pleased that Robbie may be leaving, but when Megan starts following Declan's instructions to do whatever is necessary to make a deal with Gil, will Robbie stay in the village?

Elsewhere, Harriet's confidence deflates when she realises Edna, Betty and Pearl are the interviewers for the parish job. Laurel sees that Arthur's Christmas wish is not for her to go to prison and gets choked up.
Episode Two
Charity wreaks havoc with the digger, whilst Jai reacts by picking up a large mallet. Jai realises she must still like him as she's acting so crazily, growing hopeful of their relationship. Later, Cain goes to Charity to try and comfort her and tell her to get grip, but she misreads the signals and goes in for a kiss.

David is pushed into proposing to Alicia by Jacob, but even Alicia isn't entirely sure how genuine the move is.

Megan flirts with Gil to try to seal the deal, but is then tempted when he offers that she work with him. Will she agree to it?

Elsewhere, the Vicar Factor begins, and there can only be one winner out of Ashley and Harriet. Laurel tries to sort things out with Arthur.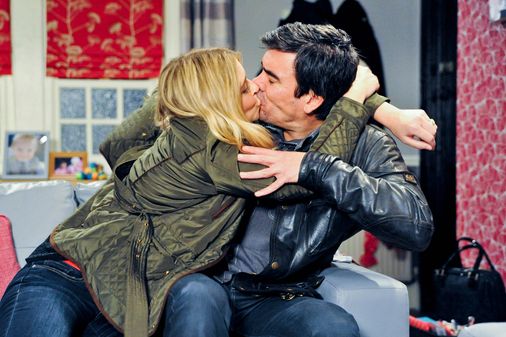 © ITV Pictures
Charity kisses Cain