​SPOILER ALERT!
Cain comes clean admitting Holly tried to call, leaving Moira shocked he deleted the message. Moira's relieved that Holly wasn't trying to kill herself but when Moira's out, Cain tells Holly to leave saying she would be better off killing herself away from Moira. Can Moira stop Holly from leaving and will this be the final straw for Cain? Is this the end for Cain and Moira?
Gabby and Liv film themselves smashing things atGordon's and post the videos online to show the party's legit. Soon Bernice and Chas realise the girls have lied about where they are. When they arrive at Gordon's house, Chas struggles to discipline Liv but there's a sense that Liv knows she went too far. Chas tells Aaron about the party and he's worried to think Liv's behaviour is all about Gordon.
Nicola warns Dan not to tell Kerry that Ashley needs to be supervised and he agrees to keep the secret. Jimmy, Dan and Ashley settle down to watch a horror film at the pirate ship but they frighten Arthur.​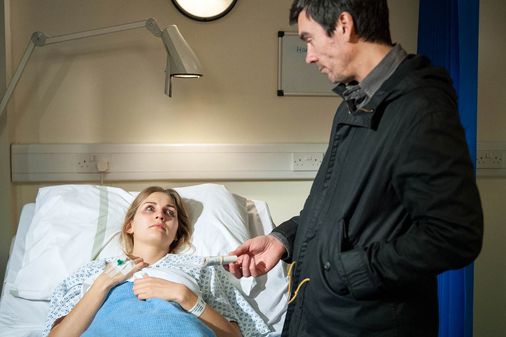 © ITV Pictures