SPOILER ALERT!
Priya panics when she starts bleeding at work. Diane calls an ambulance as Priya confesses she hasn't heard the baby move for days now. At the hospital, David and Priya are relieved that the baby is okay, but he's not sure she wants to get better. David insists she move in with him and Alicia.

Val continues to see Ian, telling him she wants a relationship though secretly hoping Pollard will intervene. Later that evening Val tells Eric she's going out with Ian, even though he has planned a romantic dinner. She wants Pollard to stop her but he doesn't and she leaves, leaving Pollard heartbroken.

Pete and Debbie finally go public with their relationship and are thrown when Cain is fine with it. Meanwhile, Ross propositions Victoria and invites her round. When she turns up she insists it will be a one off.
​
Elsewhere, Kerry tries to convince Bernice to hire her for the new salon. Rhona tells Marlon she saw Donna and April and tries to convince him that Leo should know they're siblings.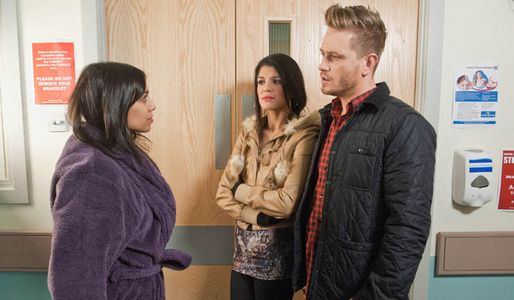 © ITV Pictures