SPOILER ALERT!
​Marlon's shocked when a social worker arrives regarding April and soon Carly is in the frame. Later, Marlon's horrified to find April's gone but he's flooded with relief when he sees Carly bringing her home. Carly soon makes a big admission to Marlon over her past… Finally admitting she had a son who died. She relives the pain as she recounts the story, explaining what happened to her baby. Marlon feels terrible for everything. Carly's baby boy Billy died of 'Sudden unexplained infant death'. She asks Marlon to keep it a secret, explaining Bob doesn't even know. They're both shocked when April walks in and finally admits who hurt her.
Rhona and Paddy, can they get past it? Paddy's surprised to hear Leo's getting a new teaching assistant and Rhona's surprised it's a man called Chris and is soon flirting outrageously with him. She's possibly somewhat overcompensating and soon it is awkward when Tess is mentioned. When Chris goes, Paddy questions her behaviour towards him and Rhona finally cracks, letting out her feelings. When she realises Leo has appeared she softens but is still bitter towards Paddy. Later at home Paddy and Rhona's relationship is laid on the line. Could this be the end for the two of them?
Also: Cain and Moira prepare for Charity's return later today, however, Chas and Cain later arrive home without her, not knowing where she is as she was let out of prison earlier. Rakesh is pleased to have made a sale on one of the flats but bottles out of confessing his money troubles to Priya. Sam overhears Megan tell Vanessa she and Sam will never be anything other than friends, Sam's privately heartbroken.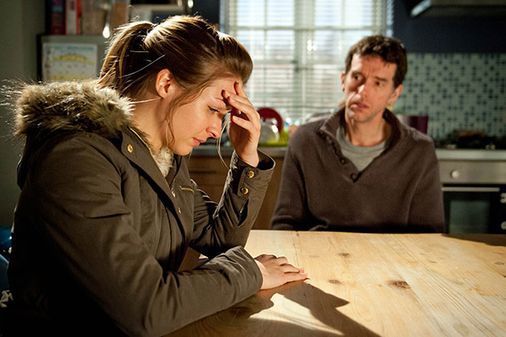 © ITV pictures
Emmerdale spoilers