SPOILER ALERT!
Police arrive at Butler's farm to question Cain about a stolen Ferrari. Moira's relieved to see Cain's being truthful that he doesn't know anything. Later, as they drive along a country road, Moira and Cain come across a load of sheep blocking the road and get out of the car to move them. They spot the stolen Ferrari and are shocked when Charity steps out. Moira's incredulous at her attitude as Charity explains she couldn't come back from prison with nothing. With the police hot on Charity's heels how will Moira and Cain resolve the situation?
Rakesh's debts catch him up whilst Priya catches him hugging Chrissie. Priya's nervous about her wedding and is suspicious of Jai's attitude over Rakesh but Rishi reassures her everything will be fine. Rakesh confides in Jimmy that he has a new person to ask for help with his cash problems, hoping the wedding will still go ahead. However, Rishi and Priya are bewildered when the building site manager arrives and says Rakesh owes him money. Soon Jimmy drops Rakesh in it with Priya and she heads to Home Farm to look for him. Meanwhile, Rakesh is grateful when Chrissie agrees to lend him the money for the caterers as Priya walks in to see them hugging.
Also: Doug asks Chas odd questions about when she was a stripper. Meanwhile, Finn's cleaning in the B & B and hears music playing. He turns off the music wondering if it is the ghost of Val? Emma's pleased when James suggests they could buy a place somewhere together. Rhona tells Pearl about Paddy's affair but doesn't say who it was with, glad they're able to make up and be friends again.
Rakesh and Priya have a bust up on their wedding day. Priya is deeply insulted Rakesh is lying to her over money and explains she saw him with Chrissie on their wedding day. Rakesh knows he has a lot of explaining to do so soon comes clean about the lies he's told and Priya's upset storming off, leaving him aghast. Can he turn it around?
Later, Rakesh tries to explain and Priya admits she doesn't need an expensive wedding. He asks her to marry him again and she's left with a decision to make. Meanwhile, everyone's in the pub, wondering where the wedding couple are but are shocked when the pair arrive..
Charity is back in full force! Cain warns Charity she'll be going straight down to the police station if there is trouble over the stolen car and she regrets she's already at loggerheads with Cain. Charity has another plan up her sleeve but is privately worried if she can pull it off.

Also: Vanessa witnesses Megan becoming irate with a nurse and feels for her. Megan finally opens up to her and admits she feels like she's grieving for the healthy baby she expected and says that she feels like she's lost a child. The nurse hands over the baby for the first time and Megan tells Jai she wants to call her Eliza. Emma's looking at houses online but James says he's going to look at one of Rakesh's flats as it would be ideal for them, Emma's delighted to think this is her future.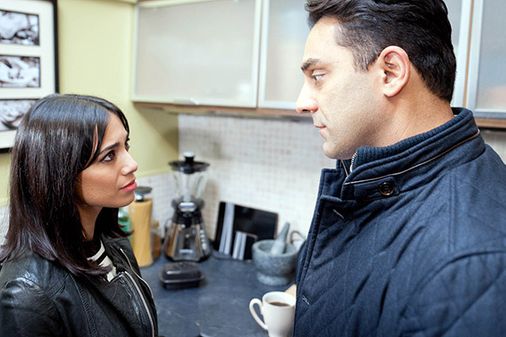 © ITV pictures
Emmerdale spoilers