SPOILER ALERT!
Megan and Jai are desperate to expose Charity by getting evidence from her bank statements. Jai manages to hack into her account and Megan smells victory. They march straight round to Home Farm to drop the bombshell on Declan despite Megan knowing she has broken her restraining order. As they present their findings to Declan, Charity panics as her web of lies closes in, but Declan tells them he already knows, the abortion was Debbie's. The police arrive to arrest Megan who fumes at Charity insisting she'll kill her for this…

After visiting Aaron, Paddy and Chas worry about his state of mind, seeing he's lost all hope of getting out. Edna overhears them and is overcome with guilt, wishing she could make amends.

Debbie is enjoying spending time with Pete and believes she is now the happiest she has ever been. She asks him to move in with her, but when he just says he'll think about it, she is worried.

Jimmy's prepared Nicola a healthy but unappetising meal, telling her they've gone vegan. He watches her eat it but Nicola is later raging when she discovers Jimmy hasn't been eating as well as he's been making out.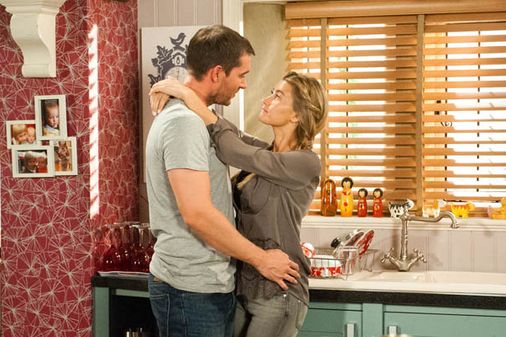 © ITV Pictures
Megan and Jai find incriminating evidence against Charity