SPOILER ALERT!
​
Charity's smug as she watches Robbie get out of a police car. He explains to Megan he was arrested for breaking into the abortion clinic. Megan despairs to think any chance of getting proof may have slipped through their fingers. Robbie arrives at work and winds up Declan by telling Jimmy he was arrested for doing a favour for a mate who's in denial about his wife having had an abortion. Declan's not happy, threatening Robbie never to bring those accusations into his house again. Robbie and Megan's persistence to pursue Charity over this, start to stir doubts in Declan. Charity knows she needs to think creatively to throw Declan off the scent but will she manage to?

Zak wonders if he has been too hard on Tracy and invites her round to watch a film on his new television. Later at the Dingles when Zak has popped out, Tracy loses her balance whilst dancing sending the TV crashing. With Tracy flush from the Charity v. Megan war she could offer to pay for a replacement, but will she?

Kirin tells a prying Priya if he wants to see Vanessa again he will. Later, Priya overhears Vanessa telling Leyla how much she likes Kirin. Despite learning Kirin's 'date' was actually his auntie, Priya twists the truth telling Vanessa Kirin has met a girl and they're going on a second date.

Victoria suggests a night out to Finn, telling him he needs to get back to normal. With Nicola still intent on Jimmy having a makeover, he mischievously decides to play her at her own game.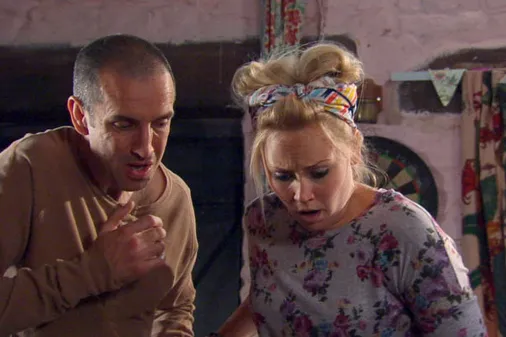 © ITV Pictures
Robbie rattles Declan