​SPOILER ALERT!
Holly turns the tables on Cleo, desperate to save her friend. She heads to the police station and prepares to confess.
Scott presents his space-themed school ball idea to a flummoxed John Paul. John Paul begs Mrs St Claire to get rid of Scott but Scott has overheard and he's hurt. He runs to the toilets with John Paul in pursuit and they have a heart to heart. Dressed as Men in Black, John Paul and Scott present their idea for the school ball to Mrs St Claire, who is glad that her son and Scott seem to be getting along… James brings Harry and Ste breakfast at The Shack.
Ste has a trial shift at The Dog and James tampers with the pumps so they both get covered in beer. James leads Ste upstairs to get changed, knowing that Harry will catch them. Elsewhere, Marnie talks to Myra about how to claim more money from Tony.
James pulls up in his car alongsideHarry and with a cheeky smile asks if he wants to "have some fun". They enjoy drinks and a take away in James' car and Harry is tempted by an indecent proposal from James.​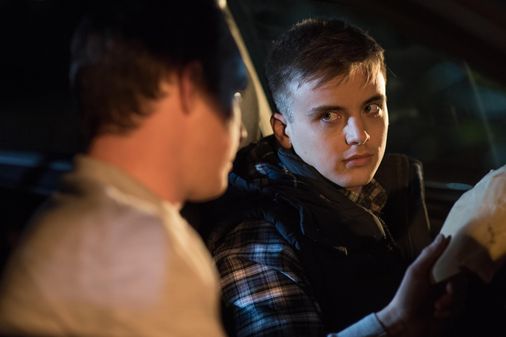 © Lime Pictures