One Direction star Louis Tomlinson is undoubtedly feeling a bit redfaced today.

The 21-year-old was sending out what he thought was a rather innocent tweet to his 13.9 million followers complimenting health brand Bootea on their range of smoothies.

He wrote: Had an amazing @BooteaUK smoothie from Bootea.com this morning #booteashake."

But it turns out that the company also sell "intense" weight loss and appetite suppressing supplements.

Soon after Louis deleted the tweet, but it seems that the damage had already been done as it managed to rack up over 10,000 retweets and 14,000 favourites in a matter of hours.

The £34.99 Bootea shake smoothie packages quickly sold out and shortly afterwards the company removed them from the site.

Louis then found himself under attack from health campaigners complaining that the 1D singer was setting a bad impression for his young impressionable fans.

Their range of "fat-burning" and "appetite-supressing" teas are still on sale and in the FAQ section of the website the company do admit that there can be a laxative side effect from the tea.

They also warn that a "teatox" may undermine the effectiveness of medication, notably the contraceptive pill.

Attempting to do damage control, Louis' spokesman told the Mirror: "Louis tweeted about the drink as he had one and enjoyed it. However, he did not realise they are associated with weight-loss and would never endorse weight-loss products."
But Louis' fans weren't happy with their idol and they took to Twitter to vent their anger.

A 1D fan tweeted: "So you think it's a grand idea to promote weight-loss shakes to impressionable young girls? Not cool."

One said: "You should NOT promote stuff like that!! #soangry".

While another told him: "STOP that's not helping people with anorexia and stuff."

The One Direction star was also branded "reckless, unethical and wrong".

There's also since been speculation over precisely why trim Louis was drinking a weight loss shake.

Concerned fans asked him if he was trying to slim down, with one writing: "You're a stick, why would you want to lose weight?"

Lucy Russell, the director of campaigns at the YoungMinds charity, which works to improve young people's mental health, spoke to the Mirror about the incident.

Blasting the singer, she said: "It's really irresponsible and short-sighted of him. Louis has such a huge audience – especially young girls. It's very silly and remiss of him and the people around him.

"Three children in every classroom have a diagnosable mental health problem. Louis is a mentor to millions. The ones who are vulnerable are easily led and will be thinking: 'I'll buy some of that.'"

Do you think Louis deserves to be in trouble? Tweet us @SofeminineUK.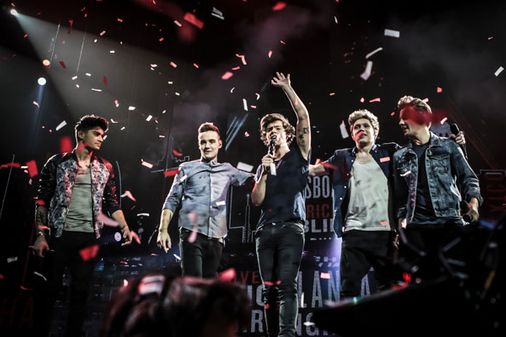 © PR
One Direction