Not only is Prince Harry sober, but he's also reportedly pretty smelly!

The 29-year-old royal has been taking part in a charity trek to the South Pole alongside Burton and Taylor actor Dominic West and True Blood star Alexander Skarsgard.

They were joined on the 208-mile trek by wounded soldiers, who completed the gruelling challenge to raise money for charity Walking With The Wounded, of which Harry is a patron.

The group didn't have the easiest of times though and they had to battle through pretty treacherous terrain.

So it's understandable that upon arrival to the South Pole the group were keen to toast their achievement, but sadly they were refused service at a bar in Antarctica.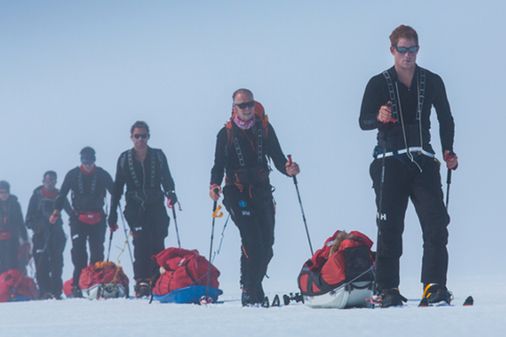 © Walking With The Wounded
Prince Harry
RadarOnline.com reports that not only were Prince Harry and his new BFFs Dominic West and Alexander Skarsgard denied drinks, but their lack of showering meant they were all incredibly "smelly!"

An eyewitness at McMurdo Station in the South Pole said: "They were denied [drinks]. Only staff/employees are allowed alcohol and tobacco."

It seems that even though Harry is royalty (although since the birth of baby George he's now fourth-in-line to the British throne), no exceptions were made for Prince William's younger brother.

Although Harry, Dominic and Alexander were turned away without getting served, they left something behind from their visit – a bad smell.

The eyewitness revealed: "All three were very smelly and scruffy. They are only allowed two 2-minute showers per week!"

Poor Harry. We would never turn you away for being stinky! Especially after doing such a courageous thing for charity!

Do you think it was unfair of the bar to turn them away? Tweet us @sofeminineUK.​