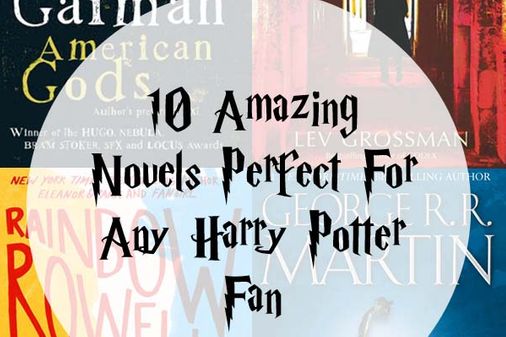 The Magicians - Lev Grossman
Largely described as Harry Potter with sex and drugs, The Magicians follows Quentin, a down-in-the-mouth teenager who eventually finds himself at magician university. After accidentally summoning a monster from another world into his new, seemingly perfect life, Quentin realises that magic is more terrifying than he'd ever imagined. Let's just say that if Hermione attended this place she would be shocked, shocked at this lot's corrupted ways.
Carry On - Rainbow Rowell
Written by the extremely popular bestselling author Rainbow Rowell, Carry On follows Simon Snow, 'the chosen one' at his wizarding school and his relationship with Baz, the bad boy 'Draco Malfoy' type who lives to torment him. It's basically Harry Potter if Harry and Draco realised they were actually in love. It is beautifully written and although it can definitely be classed as a guilty pleasure piece, you won't be able to stop reading.
His Dark Materials - Philip Pullman
This fantasy series should have been given so much more than that one rubbish movie adaption (hopefully the TV series will be better.) The story follows Lyra, a tearaway girl who lives in a world parallel to ours where everyone has a daemon - animals whose shape shows their human's character (apart from children, whose daemons can change shape freely.)

After Lyra saves her uncle from being poisoned, she is swept off in an adventure including the evil yet beautiful Mrs Coulter, Gyptians and armoured bears. Not only is the trilogy beautifully written, the characters are fantastic and it is truly a brilliant read.
The Princess Bride - William Goldman
This classic read is full of giants, witches, sword fights, true love, evil Princes and pirates, not to mention a huge helping of wit. As somewhat a parody of typical fairytales, you can appreciate the author's wry sense of humour while also kind of enjoying all of the melodrama.
Outlander - Diana Gabaldon
A World War II nurse named Claire falls through some stones in Scotland and ends up with 17th century Scotland. Armed with nothing but her wits and an oddly vast knowledge of Scottish history, Claire must survive in this brutal place until she can find her way back home. But when she meets Jamie (ginger, insanely attractive), she finds her allegiances begin to wane. Does she really want to go back to her time, or could this be where she's always belonged?
Chronicles of Chrestomanci - Diana Wynne Jones
If you missed this treat as a child, read up at once and then we can all discuss. The seven books each follow different people who live in the worlds of Chrestomanci, an all powerful warlock with nine lives who is randomly chosen at birth to rule the realms. It's very much centred in fantasy, with it's own ideas on how magic works and what people think about witches and wizards and is most definitely worth the read.
Daughter of Smoke and Bone - Laini Taylor
Truly a beautifully written novel, the story follows Karou, a vivacious and mysterious artist who moonlights as a delivery girl to another world for chimeras - the mismatch of animal creatures who raised her. But who are her real parents? What aren't her adoptive family telling her? And why are the doors to the other world slowly being forced closed?
Game of Thrones - George RR Martin
If you're a Harry Potter fan but you've never read or watched Game of Thrones, trust us. Do yourself a favour and settle in for a seriously huge series of books following the great houses in the world of Westeros. Full of gore, sex, political intrigue (much more interesting than it sounds) and war and scandalous secrets, you will be sucked into these novels - that is until they finish at book 5 and you join the rest of us who are desperately waiting for George RR Martin to get a move on with books 6 & 7!
The Bone Season - Samantha Shannon
The Bone Season follows Paige, a teenage girl who has magical abilities that have been prohibited by law. Since her very existence is against the law, Paige's only hope of survival is in London's criminal underworld. However, she is kidnapped and taken to work as a slave in Oxford, where she discovers that her world is in terrifying danger. With smart writing and likeable characters, this is one young adult novel you can absolutely sink your teeth into.
American Gods - Neil Gaiman
For fans of the surreal, American Gods is an instant classic. After a tragedy, ex-convict Shadow meets the elusive Mr Wednesday, who claims to be a God and in the middle of a war. Travelling through America together Shadow encounters incredible (and disturbing) things he never knew existed while solving murders and getting ready to face the inevitable war between the old Gods and the new.
Will you be trying these out? Tweet us @sofeminineUK

This article was written by Emmy Griffiths. Tweet her book recommendations @emmyfg!
You might like...
10 Murder Mystery Thrillers EVERY Woman Should Read

10 Brilliant Novels About Mental Health You Need To Read

10 Crime Thriller Novels Any 'Girl On A Train' Fan Will Love