1. You see Christian shirtless almost immediately
Though really, how could you miss that? The real question is how many times does he take his shirt off throughout the entire thing. Does someone fancy making a tally chart?
2. The script is bang on
See if you can spot the reference to Jamie's last role. Layers people, SO many layers.
3. Rita Ora
Try not to miss her debut though - for all the time she's in it, she and her fabulous bob haircut shine!
4. It takes AGES to get to the first sex scene
Hands up everyone who thought this film was just crazy sex? Turns out there's so much more to it than the goings on in Christian's playroom that we don't even visit the playroom until Christian and Ana have gotten to know each other, and we have to say we kind of like it that way!
5. Ana's co-worker Paul is ridiculously hot.
Not so much a fact but an observation. Who is he and where can we find him?
6. Kate pretty much sucks as a person
This was pretty hard not to miss tbh. Try to pinpoint the moment you realise she's actually a horrendous friend and housemate. Trust us, there'll be more than one occasion.
7. Ana entering the 21st Century
Seriously though, why DOES she still have a flip phone?! Do people even sell flip phones anymore?! Why doesn't Christian buy her a new damn phone?!
8. The women in Christian's office
WHO are these women and HOW do they look like that?! Thankfully he's not into that kind of thing. He likes innocent, lip-biting Uni students. Nice work Steele, you do you.
9.What actually happens to all the cable ties and masking tape
We don't want to spoil it but it's not what you were expecting...
10. Christian running a business
Phones that aren't plugged in at the office, cancelling appointments so he can hang out with Ana, flying all over the place to find her, the list goes on! Seriously man, how DID you become so rich when you do NO work?!
What did you miss? Tweet us @sofeminineUK!
The Fifty Shades of Grey movie is available to download on iTunes before its DVD release on 22nd June! If you're curious for more – you'll get major added extras including exclusive behind the scenes footage, music videos and a first look at Fifty Shades Darker.

You might like...

Everyone Stay Calm: The First Image From Fifty Shades Darker Is HERE

20 Reasons You Should Give 50 Shades Of Grey A Chance

16 Reasons To Treat Yourself To 50 Shades of Grey Tonight
Need a quick fix before watching all over again? Check out these stills from the hottest film of the year!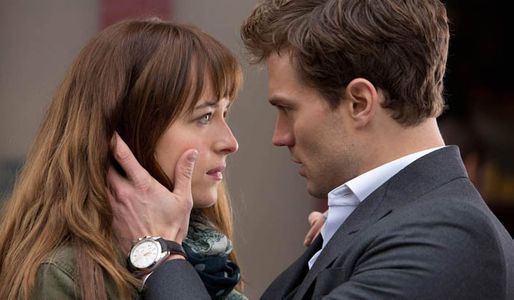 © Universal