Angelina Jolie and Billy Bob Thornton
Married after: Two months

Still together? Despite carrying around vials of each other's blood around their necks, Angelina and Billy Bob divorced after three years, with Angelina telling Vogue: "It took me by surprise too, because overnight, we totally changed. I think one day we had just nothing in common."
Katie Holmes and Tom Cruise
Married after: Two months, and lots of sofa bouncing.

Still together? To be fair, this pair did last for six years before calling it a day, with rumours that Tom's scientology faith caused problems in the relationship.
Kim Kardashian and Kris Humphries
Married after: The pair began dating in October 2010, were engaged by May 2011, and married by August.

Still together? Nope, the wedding lasted a famous 72 days and was thought by absolutely everyone to be a total showmance publicity stunt.
Britney Spears and Jason Alexander
Married after: Friends from childhood, Britney invited Alexander out on a trip and they pair decided to get hitched. They hadn't even been dating before they were hitched

Still together? The marriage lasted for less than 55 hours. We think Britney might have had not only the shortest ever celeb marriage, but the shortest ever marriage in the history of everything.
Cheryl Cole and Jean-Bernard Fernandez-Versini
Married after: Three months.

Still together? Since the pair married in July 2014, we can confirm that their marriage has so far last over one month, which is more than can be said for others…
Renee Zellweger and Kenny Chesney
Married after: Four months.

Still together? Renee and Kenny broke up five months after they were hitched. Seriously what is it with these people? Couldn't they have just lived together for a bit first?!
Russell Brand and Katy Perry
Married after: The pair were engaged after dating for three months, and got hitched a year later in a Hindu ceremony.

Still together? Russell called the marriage a day just fourteen months after they got hitched, with Perry's autobiographical film giving an insight into the split.
Jennifer Lopez and Marc Anthony
Married after: Although the pair had been friends for a long time, they were together for six months (almost immediately after JLo and Ben Affleck called it a day) before tying the knot.

Still together? The pair split in 2011, after seven years of marriage, with the divorce being finalised in June 2014.
Julia Roberts and Lyle Lovett
Married after: Three weeks

Still together? Pssh, no. The marriage lasted 21 months.
Pamela Anderson and Tommy Lee
Married after: Four days (?!?!?!)

Still together? Obviously not. Although the pair did last for three years, and have reconciled twice since the divorce.
Khloe Kardashian and Lamar
Married after: One month.

Still together? The pair were married for four years but Lamar and Khloe filed for divorce in 2013 after a string of infidelity rumors against Mr. Odom.
Katie Price and Kieran Hayler
Married after: After getting engaged following three weeks of dating, the pair were married a little under a month later.

Still together? Yes and no. The pair split in the most public way possible when Jordan tweeted that her hubby had been having an affair with her close friend, Jane Pountney. However, Katie has now said she will give Kieran a second chance.
Naya Rivera and Ryan Dorsey
Married after: Naya was engaged to Big Sean for a year, calling off their engagement in April 2014 only to up and wed actor Ryan only three months later!

Still together? Well yes, they were only married last month and we hope they stay that way!
Were you surprised by how quickly these couples were hitched? Tweet us @sofeminineUK
Ever wondered how these stars even meet each other? A lot of Hollywood's finest seemed to have met at work...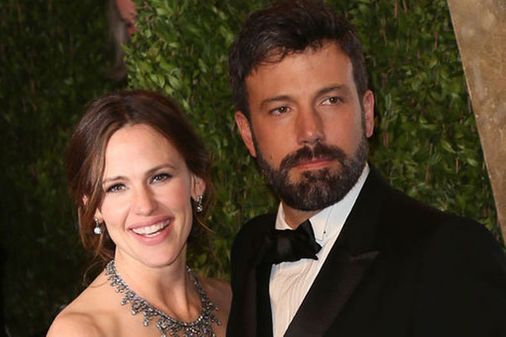 © GETTY
Celebrity couples who found love on set
Enjoyed this article? Check these out!
24 Celebrities Who Married 'Normal' People

The Good, The Bad and The Strange: 10 Celebrity Rebound Relationships

The Biggest and Most Obvious Showmances of All Time