Love Beyoncé? Of course you do! If you're huge fans like we are, you're going to get a kick out of our favourite sayings from the singer. From her timeless song "Single Ladies," to her declarations of feminism, epic one liners and inspirational life-mantras, Beyonce has spoken...
1. "If he liked it, he shoulda put a ring on it...Uh-oh"
Her 2008 hit "Single Ladies" gave all women waiting for a proposal their very own anthem. Any guy that was holding out on popping the question became susceptible to being dumped. "Uh-oh."

Who hasn't referenced this song since its debut? No one, that's who!
2. "To the left...to the left"
Beyoncé put all of her cheating man's things "in a box to the left" in her song "Irreplaceable" It's sad to think there was a fool who thought he could cheat on Bey with zero consequences. Like Queen Bey says, "Don't ever get to thinking you're irreplaceable." Got that? Good.
3. "Any questions?"
When Bey was accused of lip-syncing during President Obama's 2013 inauguration, she silenced every last one of her critics by singing the American national anthem a capella at her Super Bowl press conference. She ended her performance with a giggle and "any questions?" Perfection.

How dare they question her vocal prowess?!
4. "Equality is a myth, and for some reason everyone accepts the fact that women don't make as much money as men do. "
In her self-directed documentary Beyoncé: Life Is But A Dream, she doesn't hold back when speaking on the wage gap. "I truly believe that women should be financially independent from their men. And let's face it, money gives men the power to run the show. It gives men the power to define value. They define what's sexy. And men define what's feminine. It's ridiculous."

Ugh, we love her!
5. "I woke up like this. We flawless."
Self-explanatory. Obvs.
6. "I am finally at the stage in my life where I am not so concerned with other people's opinions about my life decisions."
A very memorable line from her 2011 Harper's Bazaar interview. We love how comfortable she's grown in her skin.
7. "Surfboard...Surfboard."
Ok so Blue Ivy kinda gave us this quote too. Like mother like daughter right?
8. "Who run the world? Girls."
*Shoulder shimmies*
9. "Put your freakum dress on."
Not sure what a "freakum dress" is? You know that tight little number that hugs you in all the right places? The dress that makes all the guys break their necks? That's it.

We're trying to rock ours as fiercely as Bey!
10. "Cause my body's too bootylicious for you, babe."
Doubting Bey's credentials? Not only did she empower women to embrace their curves, she also got the word "bootylicious" added to the dictionary. Enough said.
11. "I'm a survivor. I'm not gon' give up."
The Beyoncé penned Destiny's Child smash "Survivor" is one of our favourite motivational tracks. Period.

She gets extra kudos for making camo look so hot.
12. "The reality is: sometimes you lose... and you're never too good to lose."
In the behind-the-scenes making of her self-titled album, Bey declared that no one is above failure. "Sometimes you lose...and you're never too good to lose. You're never too big to lose. You're never too smart to lose. It happens," she declared.
13. "It's like a Popeye's Chicken biscuit. My favourite."
When Piers Morgan offered Bey her very first scone, she was instantly a fan. "It's like a Popeye's chicken biscuit. My favourite" she said.

Great, now we're hungry.

See her scone experience around the 32:40 mark above.
14. "Why did God give me my talent?"
Because you're divine. Case closed.
15. "My daughter introduced me to myself."
And now we've dissolved into a puddle of tears. Tissue, please!

What are some of your favourite Beyoncé quotes? Tweet us @sofeminineUK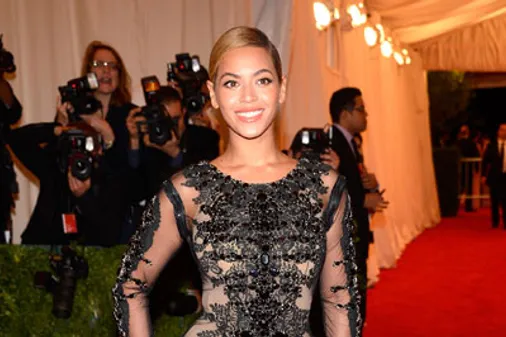 © Getty
Beyonce