Ashton Kutcher uncharacteristically tweeted a candid snap of himself and girlfriend Mila Kunis to his 15 million Twitter followers.

The 35-year-old captioned the photo: "Sunset #nofilter" – taking a playful poke at the overused Instagram expression.

The pair can just be made out in the dark snap, which shows them kissing in front of a red neon sign that reads: "Sun."

Although they've been dating for almost two years, Ashton and Mila have largely kept their relationship out of the public eye.

But now The Two and a Half Men star's divorce to ex-wife Demi Moore has been finalised, and the pair seem finally ready to be less secretive about their love.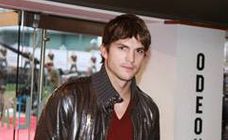 © Instagram
Ashton Kutcher and Mila Kunis
They even walked down the aisle together last week, but it was as part of the wedding party for Mila's brother Michael, who married his sister's ballet teacher Alexandra Blacker in the Cathedral Church of Saint Peter in St. Petersburg, Florida.

According to RadarOnline, Mila had set up her bro with her Black Swan trainer soon after shooting the 2010 Oscar-winning film.

Obviously appreciative of her matchmaking skills, Alexandra had Mila as one of her bridesmaids, while Ashton was one of Michael's groomsmen.

As well as Ashton being close to Mila's family, the Ted actress is said to be very friendly with her boyfriend's relatives, especially Ashton's mum Diane who she was spotted shopping for Thanksgiving turkey with.

It's been rumoured now that Ashton is legally separated, the pair want to wed and start a family together.

Meanwhile allegedly heartbroken Demi has supposedly sold her five-carat emerald and diamond engagement ring from Ashton for $250,000 to a high-end jeweller in Beverly Hills.

Hopefully Mila and Ashton won't stumble across it if they go shopping for engagement rings!

Do you think Ashton and Mila make a cute couple? Tweet us @sofeminineUK!