Benedict Cumberbatch has been driving fans wild since he was photographed with various women recently.

Last week he was snapped with Russian model Katia Elizarova - although he has denied they are anything more than friends.

And just a few nights ago he was spotted exiting a London club hand-in-hand with a mystery redhead.

But, if Cumberb*tches out there were worried this may be the new One for their favourite acting heartthrob, it sounds like they needn't fret.

The Sherlock star is not looking for Mrs. Cumberbatch - for now he's enjoying casual dating.

The actor dated Olivia Poulet for 12 years, but the pair broke off their long-term relationship two years ago.

He's not been seriously linked to anyone since - and it seems he's not too bothered!

The 37-year-old explained to ELLE Japan: "It's a wonderful thing to get married young and become a father.

"I used to think that I'd get married by my mid-thirties and have children.
"But now I think I can wait. I'm no longer in a hurry to get married."
Ben's priorities have obviously moved around since his sister ​Tracy Peacock previously hinted that he is looking for that special someone.
​
She said: "One of his regrets is that he hasn't found someone to settle down with.

"You would have to be a pretty smart cookie to keep up with him. I think that is possibly why he has trouble with girlfriends."
Benedict's attitudes to marriage may have changed, but his expectations of women are still pretty high.

Here you are ladies - the requirements.

First up, he said: "A woman who knows that she doesn't have to get all decked out to look good is sexy.

"A woman who can make you feel smart with her conversation skills is also sexy.

"I believe the sense of humour is important."

How you getting on so far girls?

He went on: "I also think someone who is good at working with others is sexy.

"It's like playing a tennis doubles match. You need to be able to work well together if you are to stay partners for a long time."

So the secret to a long lasting relationship with this Star Trek star?

He explained: "I would like to first get to know the partner and build a trusting relationship before making the commitment."
Please form an orderly queue.​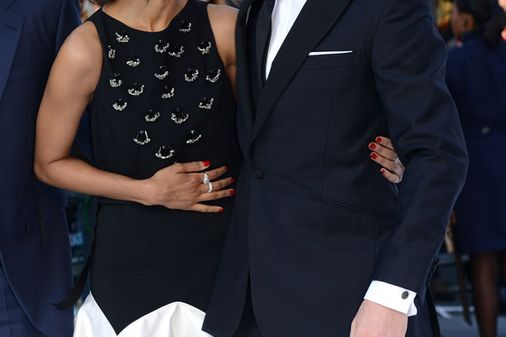 © Getty
Benedict Cumberbatch and Zoe Saldana