Benedict Cumberbatch has been spotted leaving a London nightclub with a mystery woman.

The 37-year-old was walking hand-in-hand with a tall, slim redhead.

The pair were seen emerging from Cirque Le Soir in Mayfair, before jumping into a black taxi together.

The Sherlock star is thought to have been enjoying a belated birthday celebration with friends.

In what is fast becoming the Cumberbatch uniform of flat cap, shirt and hi tops, Benedict was treated to a VIP table at the hip club.

These tables feature topless burlesque dancers, dancing dogs and bottles of vodka, plus champagne with sparklers.

Pal Stephen Fry also came along for the birthday fun and tweeted earlier in the evening about the "brilliance" of classic pianist James Rhodes' performance.

James attended Harrow school with the War Horse star.
Taking a break from Sherlock filming, Benedict has been making the most of his time off.

He was seen recently in Ibiza, where he had the honour of officiating a wedding between two of his male friends.

He was also snapped sitting with model Katia Elizarova, entrepreneur Ivan Massow, the groom Rob and fashion designer Ben de Lisi.

Now magazine has hinted that the Sherlock star has been getting close to the bikini clad Russian model, even claiming they'd been spotted kissing on sun loungers after the wedding.
​
But the man of the moment has denied they are any more than friends - a relief for any Cumberb*tches out there.

His sister Tracy Peacock has said: "One of his regrets is that he hasn't found someone to settle down with.

"You would have to be a pretty smart cookie to keep up with him. I think that is possibly why he has trouble with girlfriends."

We're wondering how smart this mystery woman is...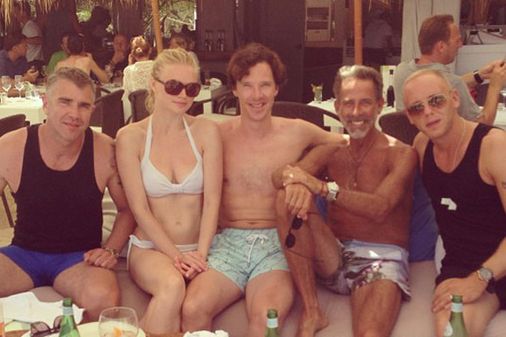 © Facebook
Benedict Cumberbatch officiates friends' wedding