We thought Britney Spears was doing better than ever, but don't let that smile fool you.

Britney hid behind her smile this week celebrating the release of her new album 'Britney Jean' and the launch of her new show at the Planet Hollywood Casino in Vegas, but there may be something much more sinister going on under the surface of the pop star's life.
The 32-year-old's former manager and confidante, Sam Lutfi has released a number of private text messages, claiming that they are from Britney.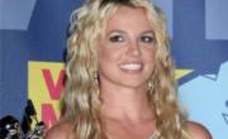 According to RadarOnline on Tuesday a fan tweeted Sam asking "When will her greedy father release her from this conservatorship?!!"
He replied: "Hmm good question, here's an old text from her you be the judge."
The series of illeligble texts reads: "Now cuz my dad will send me away again he's soo mean I can't believe they hurt me like this I seriously don't believe in anything but I do know my heart feels better when I talk to u my dads reading everything right now that I text and everybody's really scares me I miss my babies and I'm really still scarred I'm never gonna see my babies again."
The publicised text messages sparked a Twitter feud between Sam and Britney's fans demanding why and when he'll stop speaking badly about Brit Brit and her family.
In response he wrote: "Not till the truth is out, so I can have my life back as well."
He then proceeded to reveal a personal text claiming to be from Britney, which were displayed in two separate tweets.
They read: "My mom and dad are soo mean. They don't care about me, they just want my money and my babies. They stole my voice and scarred me for life.
"​I will never forgive them they tapped my phone so we are goin to get in trouble I hate my life ivr [I've] become a nobody …
"All they care about is $$$$," the text continues. "They make up lies about you to all these f*****g shady lawyers.
"Jasons [sic] the only person I can talk to but he likes me and I don't feel the same but he's good with my babies. I'm sad So sad Lost very lost."
Although he was a former friend of Miss Spears, Sam was reportedly pushed out of Britney's life and fired after the conservatorship was taken over by her parents. So who's telling the truth in all this?
It may not be hard to believe considering her dark past, but Sam does raise a lot of eyebrows.

The former manager is currently suing Britney and her parents under the grounds of wrongful termination and breach of contract.
Britney's home has been under conservatorship by her parents since her public breakdown in February 2008.
Sam has been persistently requesting that Miss Spears sit for a deposition, but her lawyers have argued she's not "competent" enough to testify.
So in a plan for revenge - could this be Sam's way in getting songstress to sit in court? Possibly.
Sam defended his claims arguing that Britney's recent comeback is proof that she is fully competent to carry out a deposition.
Woah! This is going to be one very nasty legal battle!
Who's side are you on? Is Sam telling the truth? Will Brit have another breakdown? Tweet us @sofeminineUK!

© Twitter
Britney Spears