Heidi Klum
Walking, talking inside-out lady? GAH.
Chloe Moretz
Which kind of witch is Chloe? Bahahahaha.
Kim Kardashian
Kim looked unrecognisable with her red hair and comic book costume but we do wonder, does she even know who Poison Ivy is, or did she just want a hot costume?
Mindy Kaling
Mindy looked every inch the classic Renaissance man last Halloween.
Jessica Simpson
Geddit? Because she's pregnant so she's a mummy? Yeah?
Katy Perry
From one pop icon to another (considerably better) one!
Jessica Alba
Hola Jessica Alba! That means hello!
Kate Moss
Kate Moss dressed up as a scary, scraggly haired, terrifying witch. Hang on, is she even wearing a costume? Kidding! KIDDING!
Heidi Klum (again)
She definitely puts in a decent amount of effort.
Ellen Degeneres
Ellen Degeneres's fake boobs to tear into Nicki Minaj might be our favourite!
Iggy Azalea
She even had a dalmation with her all night. That's commitment.
Neil Patrick Harris and family
These guys are literally the sweetest. We can't wait to see what they have in store this year!
Alyson Hannigan and family
Nothing like a family of shiny dragons going door to door...
Sandra Bullock
The A-lister put on her a-game to take her little one trick or treating.
Heidi Klum AGAIN (what can we say, her costumes are incredible)
We wonder how much money she spent to look like this uber futuristic purple woman?
Liam Payne
He may as well have been the stunt double on The Dark Knight Rises for how good this costume is!
Michelle Trachtenberg
Michelle looked incredible as Sally from The Nightmare Before Christmas!
Leona Lewis
Leona went partying as a Prom Queen's whose night went horribly wrong!
Demi Lovato
Probably the only occasion you wouldn't be happy to see Demi Lovato outside your window.
Rita Ora
Rita Ora went as one giant credit card, which is obviously quite weird. Go home Rita, you're drunk.
Want to see some more? Check these out...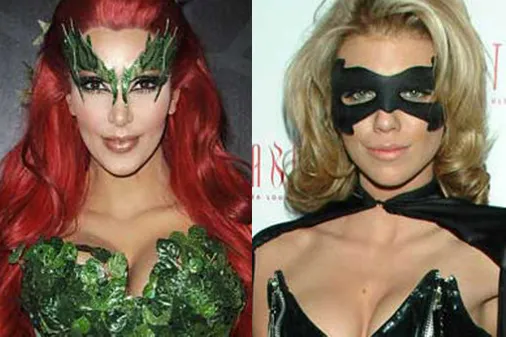 © Getty
Halloween costumes: Celebrities get dressed up
You may also like...
Do you love JK Rowling? Tweet us @sofeminineUK.

This article was written by Emmy Griffiths. Tweet her @emmyfg!​
Celebrities in fancy dress: Celebrities in Halloween costume

Halloween cocktail recipes: 8 creepy cocktails

Can Children See Ghosts? What Parents Need To Know