Is a designer handbag at the top of your Christmas list? How about a few? Each sent with personalised, handwritten letters from the designers?

Well, Rihanna has beaten you to it. It may only be the 11th of December, but the badass singer is already opening her Christmas presents. And who can blame her; she had to open the packages just to have space to walk!

If you're not jealous enough from just hearing about RiRi's awesome Christmas haul, the starlet was kind enough to share a few photos on Instagram of her designer gifts, so we can at least dream about what a celebrity Christmas haul looks like.
The singer's entrance hall was jam-packed with deliveries from top designers. She posted this picture on 9th December with the caption: "This is gonna be a long night…"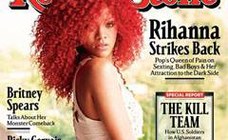 Rihanna is on a first name basis with designer Miuccia Prada, and it shows from this head to heel set of accessories.
No doubt Rihanna will look sexy and stunning in these sparkly bikinis.
Rihanna posted, "Major baby! Thank u" along with a snap of a gorgeous handbag from the Versace spring collection. Oh, and a note signed by Donatella. No big deal.
A neon pink gift from Stella McCartney, or RiRi's "Wifey", with a cute little doodle from the designer.
A pile of presents from Alexander McQueen? Yes please.
This personalised Fendi handbag has Rihanna written all over it. She's certainly on their Nice List this Christmas.
We love Rihanna's sense of style, and with gifts like these, we know she will continue to look fierce all the way through the New Year.

But if you think this is all the singer got for Christmas, we haven't even dented the surface. The singer has already been gifted everything from a jump rope to a "Turn-Table table."

To see all the new toys and accessories sent to Rihanna, check out the star's Instagram page. But prepare to turn seriously green-eyed with envy.

What do you think of Rihanna's Christmas stash? Tweet us @sofeminineUK.