Harry Styles has confessed that he's not a fan of all his tattoos.

The 19-year-old has built up a huge collection of inkings all over his body since finding fame with One Direction in 2010.

But there's one in particular he wishes he'd never agreed to - a small padlock design on his left wrist.

The tat, which many say looks like a handbag, was actually inked onto him by his good mate Ed Sheeran.

Harry told We Love Pop magazine as he pointed to the rather embarrassing scrawl: "I regret this one on my wrist here.

"I regret this. I mean, these are just crap. There are some that my friends have done and some that are just awful."

It seems Harry needs to think more carefully before agreeing to let his mates draw on him.

© Getty
Harry Styles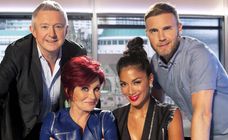 In fact, Ed recently revealed that he also managed to persuade Harry to have the word "Pingu" printed underneath his arm.

As Ed went to the parlour to have a picture of the kids' penguin inked onto his body, he managed to persuade Harry to have his own tattoo tribute to the animal character.

And when asked how he managed to sweet talk the 1D star into getting such a silly design, Ed, 22, replied: "I mentioned it; he was like, 'Alright then.' "

Perhaps Harry should've put up more of a fight.

Harry's other designs include a large butterfly across his rib cage, two birds on his chest and a ship on his arm.

He also has a load of randomly placed designs, including a black heart, a coat-hanger and a birdcage.

And he's reportedly planning to add a new "massive" inking to his collection - Hebrew lettering across his back.

Please, somebody stop him!

© Getty
Harry Styles