Harry Styles and Kendall Jenner spent an action-packed 48 hours together last week.

As well as taking her out to dinner at LA hotspot Craig's restaurant, the One Direction hunk also reportedly went golfing, hiking AND surfing – the pair must have been exhausted by the end of it!

According to Heat magazine, the 19-year-old curly-haired singer took his bandmate Niall Horan along with him to play a round of golf with Kendall's dad Bruce Jenner (Is that weird? We think it's weird).

A source revealed: "Harry, Niall and Bruce went golfing – is there a better way to win over a girl's dad? It worked – Bruce loved Harry."

Energetic Harry then met up with the 18-year-old and took her hiking in the Hollywood hills.

"Kendall and Harry hiked in the canyon behind Bruce's house. [Afterwards] they swam at the house, as it's private and there are no photographers there.

"Then, Kendall's half-brother Brody took them surfing," the insider told Heat magazine.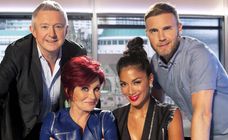 © Getty
Harry Styles
Although Harry's been an exercise fiend lately, that was supposedly enough to even exhaust him and so the pair crashed together at Bruce's beach house, after the teen supposedly told her dad to make himself scarce.

The source goes on to say that the Keeping Up With The Kardashians star is doing her best to not look too keen with Harry, after seeing how the One Direction star has reacted to other girls that have pursued him.
​
"Kendall knows that Harry's ex Taylor Swift was really full-on, and she wants to keep things casual. But she really likes Harry.

"Harry's smitten because, well, she's stunning, and seems low-maintenance compared to other girls."

The teens – who were supposedly set up by Kendall's half-sister Khloe Kardashian and Harry's BFF, Radio 1 DJ Nick Grimshaw – have not been spotted together since their candlelight meal on 20th November.

But it's claimed that they're keeping in regular contact over text message and email, after the Story Of My Life singer returned to his home in London.

Kris Jenner is said to be pleased as punch at her daughter's budding romance with the 19-year-old, as she thinks he's nice, age-appropriate and also in one of the biggest boybands on the planet.

The insider continued: "Kendall's mum Kris is ecstatic that she's dating one of the most famous pop stars in the world.

"She pushed for Kanye to date Kim and now Kendall is her new project – and she really wants this relationship with Harry to work out."

Do you think Kendall and Harry will work out? Do you want them to? Tweet us @sofeminineUK!