Dinner with your ex isn't most people's idea of a good time, but Harry Styles and Taylor Swift still gave it a go.

After seeing each other again at the MTV VMAs on Sunday, the two were forced to put any issues to one side.

Sadly for Taylor, her acceptance speech did little to make her appear over her short-lived romance with 19-year-old Harry.

When she won the Best Video award for her song I Knew You Were Trouble - a track we know to be written about the 1D hunk - she took to the stage and said: "I feel really lucky.

"I also want to thank the person who inspired this song who knows exactly who he is because now I got one of these."

She added sarcastically: "Thank you so much."

Pan to Harry. Awkward.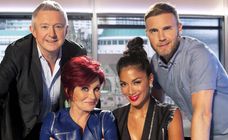 Nonetheless, Harry decided to ignore this subtle dig and the two made nice for one night only.

He revealed to HollywoodLife: "We went for dinner. I had a mocktail."

The pair must be on good terms, as a photo has since emerged of Taylor and Harry together at the VMAs after party - with two people, including mutual friend Ed Sheeran, firmly placed in between.
Hazza later spoke to ExtraTV.com about his ex-girlfriend's on stage shout out.

He said: "I like a joke as much as the next guy, so it's all good."

Harry's bandmates were also asked how they felt about Taylor's speech at the awards show.
Liam Payne joked to Vulture magazine: "When she said those things about Niall, we were very, very pissed off."

Niall Horan added with sarcasm: "I was so upset that she would go writing songs about me after all we've been through."

Liam ended with: "Hashtag get over it. I was going to do a Kanye! It's the best video of all time!"

Despite the jokes, Harry's pals did think Taylor's speech was not necessary.
Liam explained: "I just thought it was a bit not needed. I mean, you just won an award, it's like, concentrate on yourself!"

Taylor, 23, was also caught on camera mouthing "Shut the f**k up" during One Direction's acceptance speech.

So is she mates with Harry or not? We just can't tell.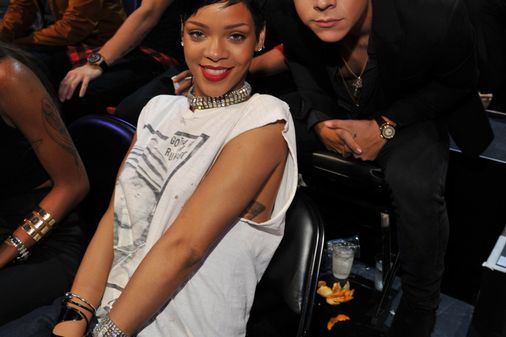 © Getty
Harry Styles and Rihanna at the VMAs