Harry Styles may be one fifth of the biggest boy band on the planet but even he gets scared of public speaking.

Well, one bit of public speaking in particular.

The teen heartthrob admits performing Best Man duties at his mother's wedding earlier this year was the "most nerve-wracking thing" ever.

Sell-out arena tours he's used to, but a speech for close friends and family? Not so easy.

The 19-year-old revealed: "I did give a speech and I can honestly say it was the most nerve-wracking thing I've ever done."

Not leaving anything to chance on such a special occasion, Harry explained: "I practised on my own for days beforehand, on the sofa reciting it to myself. I tried to make it have a bit of everything.

"When everyone thought it was going to be really emotional, I pulled the rug from under everyone's feet and injected a bit of humour. It seemed to go well."

Harry was thrilled to see his mum, Anne Cox, marry her long-term partner Robin Twist in a ceremony in Cheshire.

The boy band star reportedly helped organise and pay for it.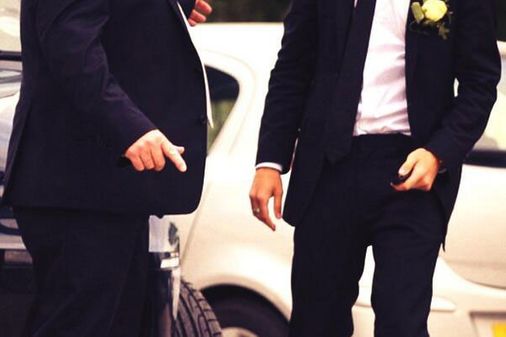 © Twitter
Harry Styles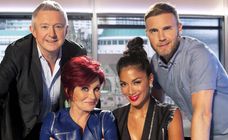 In typical mum fashion, Anne has now started thinking about Hazza's own wedding and she's a little concerned about all those tattoos.​
He told The Sun: "My mum doesn't notice new ones unless they're on my hands.

"She was like, 'Oh what are you doing them on your hands for? What is it going to look like when you get married? No more on your hands please.'

"But if I ever get one that's for her, she's like, 'I quite like that one'."

Harry has previously admitted that some of his many inkings are not the best, and it seems he may have realised that quantity does not beat quality.

He said: "It's hard to regret them if they're for family and friends."

But he confessed: "I've got a few that are really badly done, like this Pink Floyd one."

Harry went on to reveal the true extent of his tattoo addiction.
He confessed​: "I think it's about 43 now but 20 of those are just squiggles.

"I know I'm going to start running out of body space, I'll have to start on the inside. Perhaps I should have got a notepad first."

His mum has always said that despite Harry's reputation, he's quite the romantic - so thinking of a wedding day somewhere down the line is perfectly understandable.

Nonetheless, she's also upfront about both his youth and good looks - he's not settling down any time soon.

Harry explained: "Of course, I'm not saying I stay in every night... "

He also admitted to Fabulous magazine: "I just don't want to be seen as a d***head...but at the same time, I'm not an angel."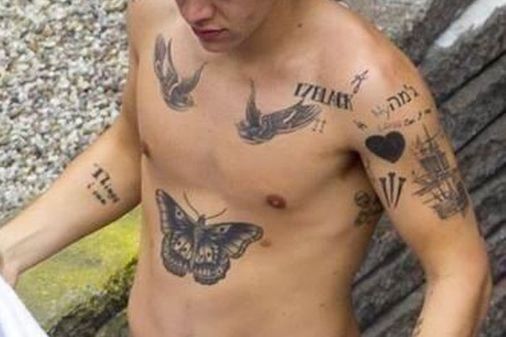 © Twitter
Harry Styles topless
Harry's love life is barely out of the press, but he tries not to take too much notice.

He told The Sun: "That is not something I want to spend a lot of time thinking about.

"I don't get really upset about it. I feel daft complaining about it, though, because it's such a small part of what I do."

And just for any fans who were concerned about these going solo rumours, what he enjoys is singing in One Direction and he has no plans to leave.

He said: "There's been all these things being said [about going solo] but I honestly don't want to do anything else."

We're sure fans would be pretty devastated by the thought of 1D coming to an end, but does Harry ever get sick of all the hysteria?

It doesn't seem like it. Although it can get "pretty nuts", he's still able to have time away from it all - he just has to be smart.

He said: "Our fans aren't daft. They work out the most elaborate decoys.

"You can do whatever you want if you're careful about it. It's all about getting in the car right. As long as you can get in the car and away, it's fine.

"On our days off out here, I've gone to secluded spots, swimming in lakes and stuff."

Who wishes they'd worked out which secluded lake Harry Styles was swimming in?!

© Getty
Harry Styles