Rosie Huntington-Whitely has caught the eye of One Direction pin-up Harry Styles.

The 19-year-old spilled the beans on who he thinks is the most beautiful woman in the world, surely breaking the hearts of women the world over.

The curly-haired Story Of My Life singer was asked about his dream girl and he named Transformers: Dark of the Moon star Rosie Huntington-Whitely as his first choice.
A New Zealand Herald reporter asked Harry: "Who is the most beautiful woman in the world? Other than your mother, sister or girlfriend?"

To which the 1D star answered: "Rosie Huntington-Whiteley, probably. It's her face..."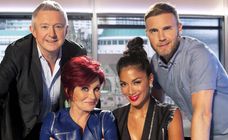 Harry is speaking from personal experience, as the two got pretty close on a shoot for US Glamour's August issue.

It seems the feeling is mutual, as the highly photogenic model gushed about how much she enjoyed the photoshoot with Harry and the rest of the One Direction boys.

At the time Rosie revealed: "I've been shooting with One Direction all morning, they've been a complete nightmare. So annoying and rude. I'm only joking.

"They're so sweet. Very nice to meet them, I'm going to the concert tonight - I'm very excited."
While Harry tried to play down his crush to the New Zealand Herald, coyly describing Rosie as "lovely, really cool," bandmate Liam clearly struggled to be around the former Burberry model.

He admitted: "I'm not the best at talking to women. When you're with someone like Rosie, it's a bit more difficult.

"I was like, I don't really know what to say, so I'm just gonna kind of stand here and try to be cool."

We wonder what Rosie's action star ex-boyfriend Jason Statham is going to make of Harry's revelation…

Do you think Rosie and Harry would make a cute couple? Tweet us @SofeminineUK!

© Getty
Harry Styles